Welcome to The Portable Laundry
We are passionate about researching and writing about topics related to portable washers. Our team of expert writers does a lot of research for all of our guides and information. This gives you the best information available and helps you get the most out of your portable washers.
Our in-depth research and review enable you to make an informed buying decision.
We write comprehensive reviews of portable washing machines to help you find the best ones for your needs.
As we continue to grow, we aim to provide the most valuable content from the following verticals:
How-to-Guides
Product Reviews
Buyers Guides
and much more!
Our goal is to provide high-value information through our expert advice. Whether you want to get a new portable washing machine, want to troubleshoot, or need a how-to guide or instruction manual, our in-depth guides have got you covered.
Meet Our Authors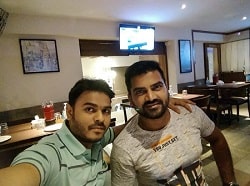 Manish and Hemant are a dynamic duo of technical writers who write about the world of appliances.
Both hold Bachelor's degrees in Commerce and have a wealth of knowledge and experience in their field.
Manish holds a Diploma in Electrical Engineering and has over 12 years of experience repairing washing machines, dryers, and other laundry-related appliances, making him a credible writer.
Hemant is a techie with a diploma in computer science and over 15 years of experience dealing with appliance-related problems. He is known for his expertise in repairing dryers and washing machines of all brands.
Together, they bring a unique perspective to the world of appliances and technology, making them a valuable addition to the home appliance industry.
While Manish Singh is a proud father of two, Hemant is blessed with one kid and they have been writing for theportablelaundry.com since early 2020.
You can always reach out to them by simply visiting the Contact Us form.
Check out the blog section to see the latest posts by Manish & Hemant.
Editorial Process
At ThePortableLaundry.com, we are committed to providing our readers with accurate, reliable, and valuable information about washing machines, dryers, and all things related to laundry.
Our team of experts ensures that the content we publish meets the highest editorial standards.
Here's how we achieve this:
Expert Contributors
Our content is created by a team of dedicated in-house writers, under the supervision of Manish Singh, who holds a diploma in electronics and possesses excellent knowledge of garment care.
His expertise in electronics and laundry care ensures that our articles are well-informed and reliable.
Our content undergoes thorough research, fact-checking, and evaluation by qualified writers.
We make every effort to cite credible sources, thereby enhancing the credibility and trustworthiness of our content.
Citations and References
To support the claims made in our articles, we include proper citations and references from reputable sources.
This allows readers to verify the information independently.
The citations included in the articles adhere to rigorous quality standards and originate from reputable sources, ensuring authenticity is verified through multiple references.
Editorial Guidelines
Our writers strictly follow our editorial guidelines, which emphasize the importance of unbiased reporting, avoiding misinformation, and delivering quality content to our readers.
Multi-Step Review Process
Each piece of content undergoes a multi-step review process involving editors and reviewers who ensure that the content adheres to our editorial guidelines and maintains high standards.
Transparency and Corrections
We value transparency, and if any inaccuracies or updates are identified, we promptly correct and update the content to provide our readers with the most reliable information.
From time to time we also take assistance from third-party authors and experts to make our content even more credible and factually correct.
Reader Feedback
We encourage our readers to share their feedback, suggestions, and comments.
Your input helps us understand your needs better and further improves our content.
Continuous Improvement
We are dedicated to continuously improving our editorial process and content quality.
As technology and laundry care evolve, we adapt to provide the latest and most relevant information.
Founder's Vision
Our founder, Hemant Sarkar, brings over 15 years of experience in computer science and holds a diploma in computer engineering.
His passion for music and electronics inspired him to launch websites in musical instrument repairs and laundry-related niches.
Our primary goal and vision are to be your most trusted resource for finding information related to washing machines, dryers, laundry-related appliances, and laundry care.
Privacy Policy
theportablelaundry.com strictly values the privacy of readers and customers.
At any time our readers can request information regardless of the geographical location.
Please refer to our Privacy Policy page for more details.
DMCA
We truly respect the Intellectual property of others and strongly support the idea of protecting it by adopting fair policies towards copyright infringement in accordance with the Digital Millennium Copyright Act ("DMCA").
We also fully support the author's creative rights by Investigating and removing content that infringes an author's copyright through our DMCA process.
Please refer to our DMCA page for more information.
Terms & Conditions
These terms and conditions outline the rules and regulations for the use of theportablelaundry.com website, located at https://theportablelaundry.com
By accessing this website we assume you accept these terms and conditions.
Do not continue to use theportablelaundry.com if you do not agree to take all of the terms and conditions stated on this page.
Refer our Terms & Conditions page for more information.
Contact Us
Want to reach out to us? We have made it very simple and easy to contact us.
Simply refer to our Contact Us page to reach out and we will be happy to help you.
Have a suggestion OR Something to Share/recommend? Do you want to reach out to us?