Welcome to The Portable Laundry
We are passionate about researching and writing about topics related to portable washers. Our team of expert writers does a lot of research for all of our guides and information. This gives you the best information available and helps you get the most out of your portable washers.
Our in-depth research and review enable you to make an informed buying decision.
We write comprehensive reviews of portable washing machines to help you find the best ones for your needs.
As we continue to grow, we aim to provide the most valuable content from the following verticals:
How-to-Guides
Product Reviews
Buyers Guides
and much more!
Our goal is to provide high-value information through our expert advice. Whether you want to get a new portable washing machine, want to troubleshoot, or need a how-to guide or instruction manual, our in-depth guides have got you covered.
Meet Our Authors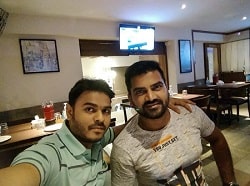 Manish and Hemant are a dynamic duo of technical writers who write about the world of appliances.
Both hold Bachelor's degrees in Commerce and have a wealth of knowledge and experience in their field.
Manish holds a Diploma in Electrical Engineering and has over 12 years of experience repairing washing machines, dryers, and other laundry-related appliances, making him a credible writer.
Hemant is a techie with a diploma in computer science and over 15 years of experience dealing with appliance-related problems. He is known for his expertise in repairing dryers and washing machines of all brands.
Together, they bring a unique perspective to the world of appliances and technology, making them a valuable addition to the home appliance industry.
While Manish Singh is a proud father of two, Hemant is blessed with one kid and they have been writing for theportablelaundry.com since early 2020.
You can always reach out to them by simply visiting the contact us form below.
Check out the blog section to see the latest posts by Manish & Hemant.
Have a suggestion OR Something to Share/recommend? Do you want to reach out to us?