Curious about the latest washing machine statistics? Your hunt stops here.
We've meticulously gathered, verified, and organized a compilation of current stats related to washing machines.
Whether you're after specific insights or a comprehensive overview, we've got you covered.
Feel free to navigate directly to a particular category or continue reading for a selection of noteworthy washing machine statistics."
Here are some interesting statistics related to washing machines worth reading.
Top Washing machine statistics
The global washing machine market is significantly influenced by major economies such as China, the United States, India, Germany, and Japan, collectively contributing to more than 60% of its total share. The remaining segment, which constitutes approximately 40%, is distributed among 95 other nations.
As of 2022, the valuation of the worldwide washing machine market stood at $56.32 billion. Projected figures indicate a gradual increase from $59.39 billion in 2023 to an estimated value of around $83.47 billion by the year 2030.
Forecasts point to a notable annual growth rate of about 14.39% in the smart washing machine market from 2022 to 2027, resulting in an elevated valuation of approximately $13.76 billion.
The washing machine markets in Europe, Asia-Pacific (APAC), the Middle East & Africa, and South America are expected to grow by about 14.39% from 2023 to 2027.
Washing machine sales will also go up gradually, from 191.3 million units in 2022 to 195.1 million units in 2023.
Within the United States, washing machine penetration is widespread, with over 85% of households equipped with this essential appliance.
The majority of washing machines come with a 1-year guarantee as standard procedure.
The Asia Pacific region exerts significant influence over the washing machine market, commanding a substantial 40% share of the global landscape.
In the forthcoming years, North America is anticipated to play a substantial role, accounting for approximately one-third (33% precisely) of the expansion in the global smart washing machine market.
On average, a standard washer would consume 1.5 kWh per cycle.
Washing Machine Usage and Trends
The most common type of washing machine is the front-loading one.
People usually do around 2 loads of laundry each week.
The typical American household does around 382 laundry loads every year.
Each wash uses about 40 gallons of water.
Washing machines make up roughly 15% of the water used in homes.
Washing machines today are over 60% more energy-efficient than they were in 1990.
On average, a washing machine can keep working well for about 10 years.
China leads the world in washing machine use, followed by the United States and Europe.
Water and Energy Usage
On average, a washing machine uses about 40 gallons of water per load.
A typical washing machine uses about 4 kWh of electricity for one load.
On Average, front-loading washing machines tend to sip around 20-25 gallons of water per cycle, while their top-loading counterparts gulp down about 30-40 gallons of water for each load.
Front-loading washing machines use about 20-30% less energy than top-loading washing machines.
Brand and Color Preferences
In terms of popularity and market share, Whirlpool leads the US washing machine market with over 46%, followed by Samsung at 18%, and LG at 17%.
White is the most preferred color for washing machines.
The next preferred colors are black and silver.
Size and Dimensions
An average washing machine weighs around 170 to 300 pounds.
The typical washing machine dimensions are about 27 inches wide, 27 inches deep, and 37 inches tall.
An average washing machine has a capacity of around 4.5 cubic feet.
Cycles, Temperatures, and Spin Speeds
On average, most washing machines offer 6 different wash cycles.
The most commonly used cycle is the regular one.
The delicate cycle and quick cycle are the next popular choices.
The average regular washing machine has 3 temperature settings.
The most commonly selected temperature is warm, followed by cold and hot.
Most mid-range washing machines typically offer 4 spin speeds.
The most common spin speed setting is normal, followed by high and low.
Maintenance and Repairs
A regular washing machine can wash approximately 1,000 loads before needing repairs.
The most common issue with washing machines is a malfunctioning lid switch.
The second most common problem is a clogged drain pump.
The third most frequent problem is a broken belt.
Repairing a washing machine typically costs around $100.
Different Kinds of Washing Machines and Where to Get Them
Some types of washing machines are more popular than others.
For example, top-load machines, where you put your clothes in from the top, are the favorites, making up more than half of the market at 54%.
They're liked because they're affordable and easy to use, especially for people who might have back pain.
As for where you can buy these machines, most people still go to physical stores (offline), but buying them online is getting more popular, with an expected growth of 9.5% each year.
In the year 2022, about 15% of washing machines were sold online all around the world, while the rest, about 85%, were sold in physical stores.
Here's a quick table that shows how people prefer buying washing machines based on different age groups:
| | | | | |
| --- | --- | --- | --- | --- |
| Age Group | Online Purchases (%) | OEM Stores (%) | Offline Stores (%) | Other Ways (%) |
| Below 35 | 35 | 5 | 45 | 15 |
| 35 – 54 | 20 | 2 | 58 | 20 |
| 55 and above | 10 | 2 | 58 | 30 |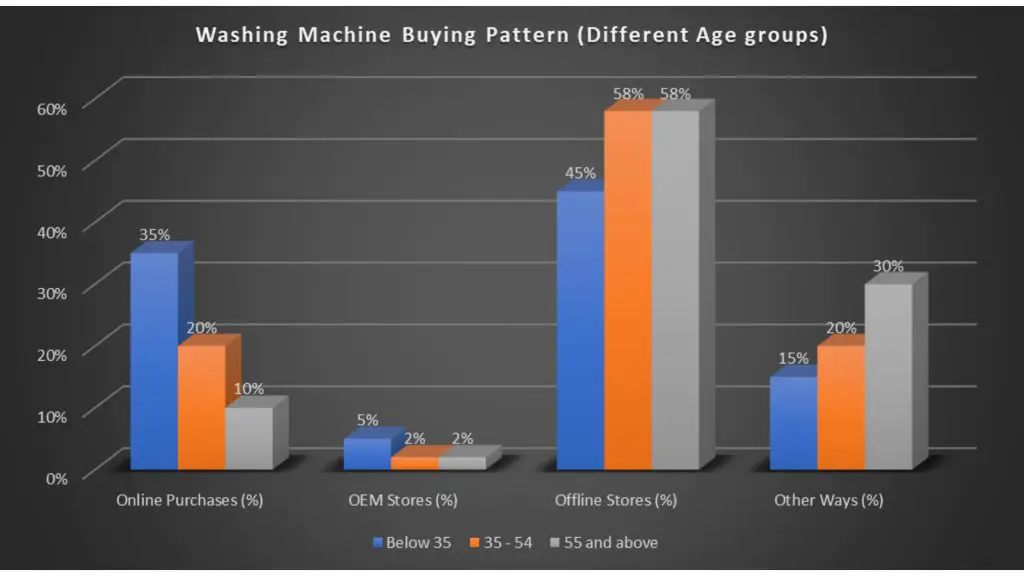 Washing Machine Ownership by Type in Various Countries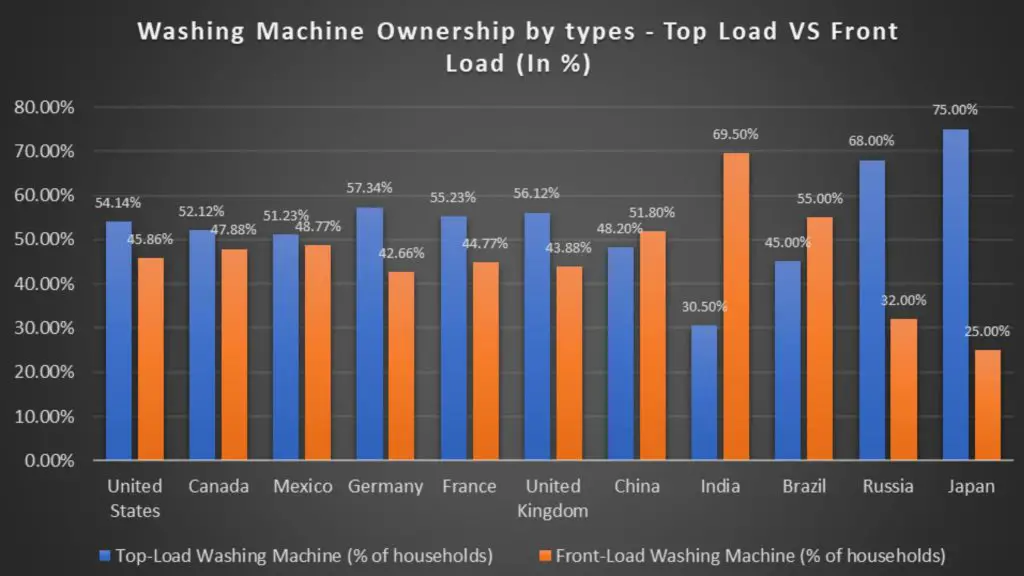 | | | |
| --- | --- | --- |
| Country | Top-Load Washing Machine (% of households) | Front-Load Washing Machine (% of households) |
| United States | 54.14% | 45.86% |
| Canada | 52.12% | 47.88% |
| Mexico | 51.23% | 48.77% |
| Germany | 57.34% | 42.66% |
| France | 55.23% | 44.77% |
| United Kingdom | 56.12% | 43.88% |
| China | 48.20% | 51.80% |
| India | 65% | 35% |
| Brazil | 45.00% | 55.00% |
| Russia | 68.00% | 32.00% |
| Japan | 75.00% | 25.00% |
Semi-Automatic vs Automatic Washing Machines Usage Pattern (YoY)
Here's a clear segregation of washing machine usage patterns:
| | | |
| --- | --- | --- |
| Year | Fully Automatic Washing Machines | Semi-Automatic Washing Machines |
| 2020 | 180 million | 10 million |
| 2021 | 185 million | 5 million |
| 2022 | 190 million | 10 million |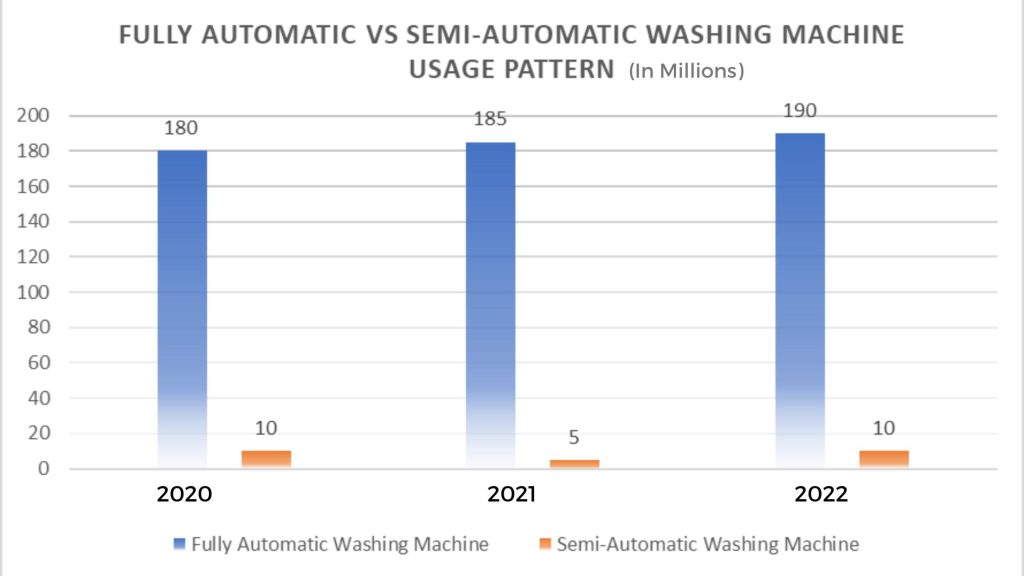 From the above stats, it's clear that in the US, about 90% of consumers prefer fully automatic washing machines.
Capacity choices
Washing machines with a capacity of more than 8 kg is the top choice, accounting for 45% of the market.
This is because bigger families need more space to do their laundry.
Smaller machines, between 6 kg and 8 kg, are expected to grow by about 6.9% each year due to changing trends after the COVID-19 pandemic.
The below 6 kg category has a market share of 20%, and the 6.1 to 8 kg category has a market share of 40%.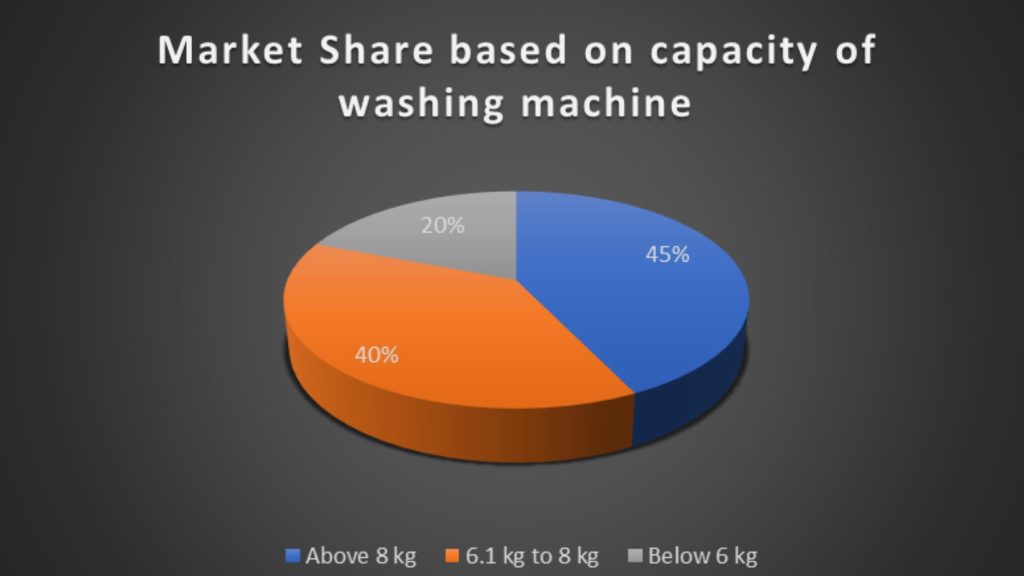 The market size of smart washing machines using IoT in USD Billion, United States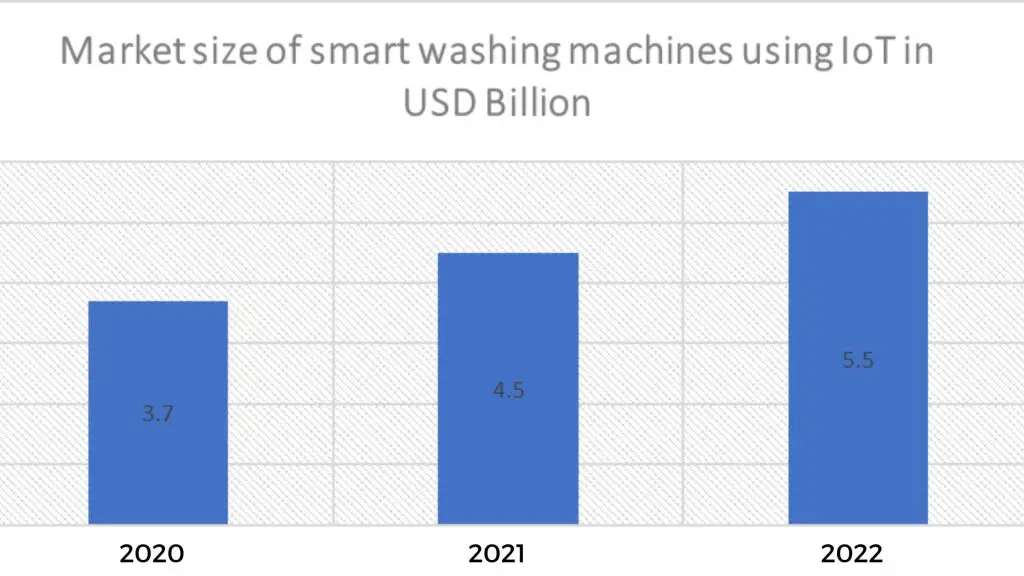 2020: USD 3.7 billion
2021: USD 4.5 billion
2022: USD 5.5 billion
Popular Washing Machine Brands in US along with market share (as of March 2023)
| | |
| --- | --- |
| Brand | Market Share (2023) |
| Whirlpool | 43% |
| Samsung | 21% |
| LG | 16% |
| Others | 20% |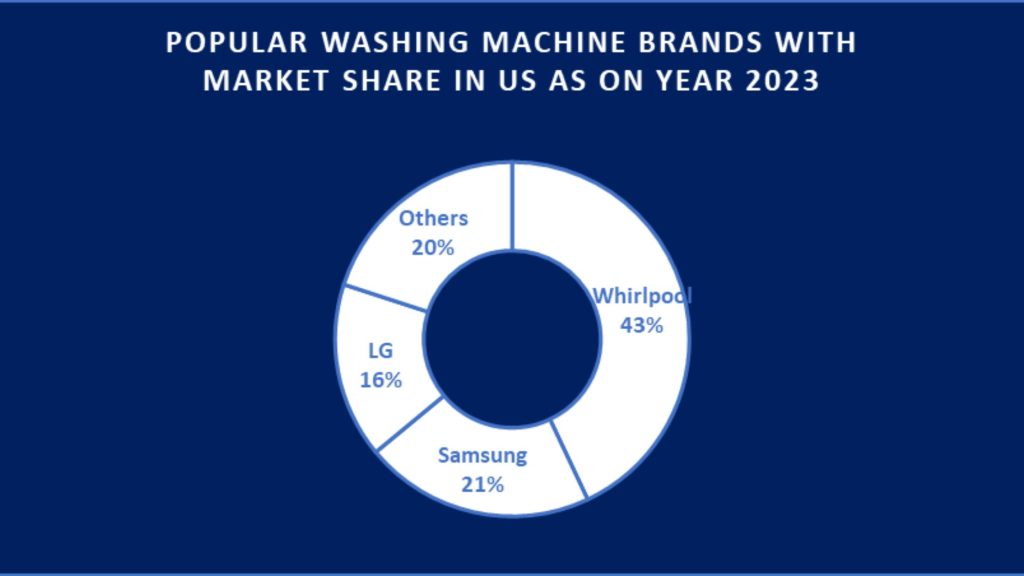 AI Is a Game-Changer
Most of the washing machines people are using these days are fully automatic, which means they do everything on their own.
In fact, they made up a huge 95% of the market in 2022, and this is expected to keep growing by about 6.9% every year.
Some of these machines are even powered by AI, which helps them make smart decisions while doing the laundry.
This makes washing clothes a lot more precise and saves water and energy too.
Companies like LG are adding fancy features like AI technology to make your laundry experience even better.
In North America, where a lot of these machines are used, the market is expected to grow by 33%.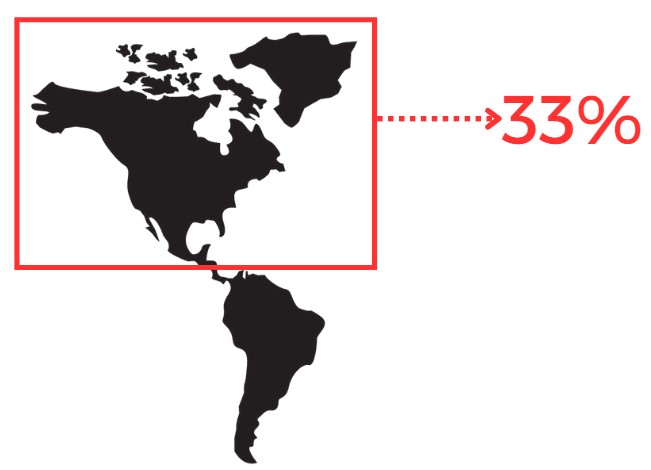 Also, when we look at Europe, APAC (Asia-Pacific), the Middle East & Africa, and South America, big players like Electrolux and Samsung are making waves across the globe.
The future looks bright, with a projected growth rate of 14.39% from 2023 to 2027.
Wrap Up
Washing machine statistics has given you valuable insights into the topic.
We're dedicated to bringing you more data-driven facts and figures in the future and we also update the stats based on changing trends.
So, remember to come back for more information that can help you make informed choices.