Of the $100 billion that consumers spent on electronic devices in the US last year, $16 billion was spent on household appliances like washers and dryers.
Since the production of the first automated washing machine in 1937, there have been major developments in the industry, with the standard washer becoming smaller, environmentally conscious, and more efficient. 
In the US, market penetration stands at almost 85%, with the majority of households owning a washer.
It has become such a basic extension of our lives that you feel the need to take it everywhere, and you can! Part of the industry development has been the creation of a portable washer. 
They were created to meet a need for a market that needed clean laundry in faraway regions, in areas with little access to power or water, and those that had a smaller budget but needed this now-basic machine.
What are Portable Washers OR Portable Washing Machines?
These are mobile washing machines, very easy to set up and dismantle.
They are generally smaller in size when compared to conventional washers, use less power (120v of power) and weigh less than regular-sized washers without compromising on their efficiency. 
Their smaller size with largely unaffected functionality makes them perfect for college dorm rooms, condominiums, camping weekends, apartments, motorized homes, and recreational vehicles. 
They can fit snugly in small spaces around the house, without compromising on efficiency.
A lot of them use water very sparingly and are perfect for camps or areas that don't have a regular water supply.
The fact that there are also manual washers makes them a favorite among environmental conservationists looking to reduce their carbon footprint. 
Their price is also considerably lower than conventional washers, and that makes them popular with students and people looking to make savings on their purchases. 
Summary:
A Portable Washing Machine is a small to medium size appliance used to wash laundry. It designed to move from one storage area to another. The term "Portable Washing Machine" mostly applies to Washers that are small in size and use Water for cleaning Laundry.
So now that you know what exactly a portable washing machine is, let's dive into the top 16 things to consider before you buy any portable washer.
READ: How to use a Portable washing machine effectively?
The Portable Washing Machine Buyer's Guide: 16 Things to Consider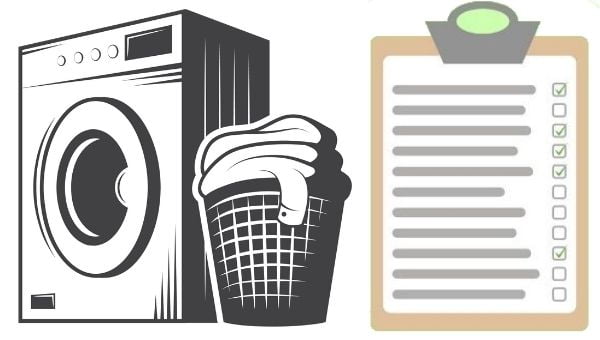 If you are planning to get a new portable washing machine for your house, Dorm, RV's or for any other purpose, here are the 16 things which you should definitely consider.
1.) The Price of the Portable Washers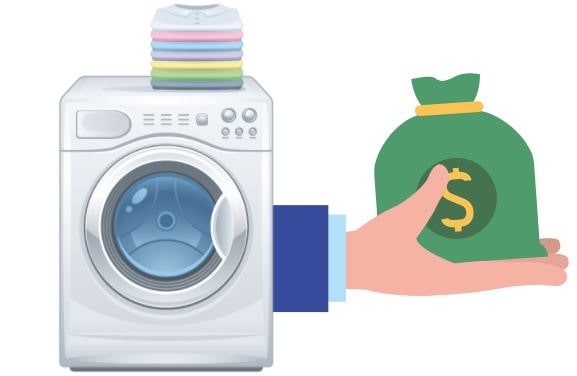 The pricing range for portable washing machines lies anywhere from $55 to $349.
Starting with the most affordable options, there are cleaning wands that are perfect for road trips and camps.
These types of washers typically start from $26, and it works with a bucket, water, and soap. 
Above this range are washing bags for $55 that only require the laundry, cleaning agents, water, and a good scrub for clothes that are twice as clean as hand-washed laundry. 
If you find yourself in a compact space without running water, there's a $56 hand-operated portable washer that will save you water while consistently delivering fresh laundry; you will need to dry the laundry load separately but that's a fair compromise.
For $140, you can get yourself a manual clothes washer that is as sturdy as it is efficient and can wash your clothes efficiently.
Starting in the $200 range, you can get both foot-powered and electric washers that have very positive reviews; from their load capacities to their spin cycles that wring laundry dry. 
With that said, the biggest dilemma one faces while selecting a portable washing machine is deciding on the type.
There are various types of portable washers available in the market and different types also at times are made for different purposes.
Let's take a quick look at the types of mini laundry machines available in the market at present.
Are you in a Hurry?
If you don't have much time to read all the details, don't hesitate to use the links below to quickly find the Best Portable Washing Machines on Amazon. Be rest assured we only shortlist and choose the best products through our thorough research…
2.) Types of Portable Washing Machine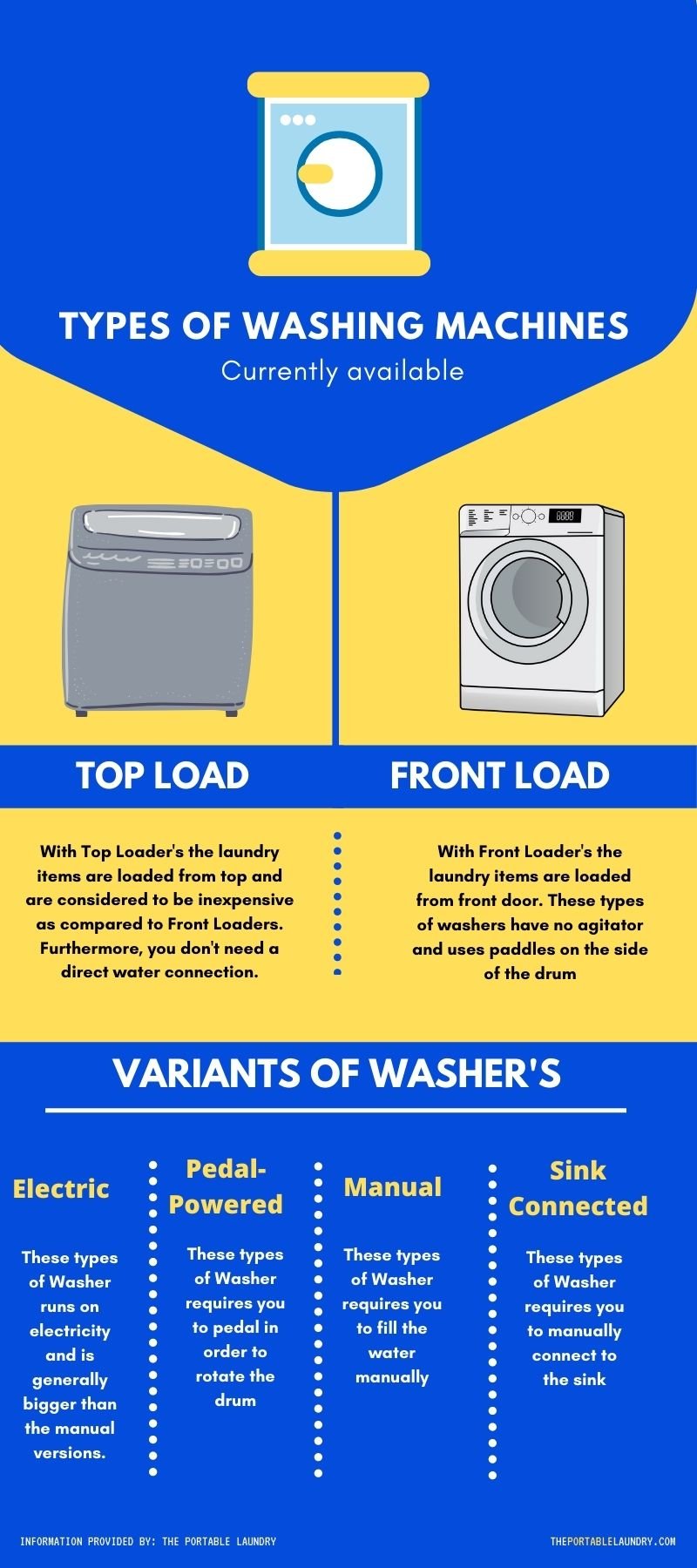 a.) Front Load Washers
As the name suggests, front load washers have a cleaning compartment, on the front of the machine.
Normal front-load washers are great for anyone in a wheelchair or has mobility issues, although due to the smaller size of portable washers, they can work for both able-bodied and physically challenged people.
They are smaller in height than top-loading portable machines, but also have a bigger width to accommodate the laundry compartment.
They are gentler on clothes, (they tumble clothes more gently) and account for less friction, which also means less wear and tear. 
To prevent leakages, a lot of front loader brands lock while in use, although this is being addressed through a feeder door that allows one to put in a last-minute item.
Most front load washers have a see-through door that will allow you to see the progress of the laundry.
To find washers that need less water, a blue 'Energy Star' label will help you know which brands have been authenticated by the US Department of Energy as using less energy (by up to 30%) and less water (by up to 50%) than the existing brands. 
So who should consider Front Load?
You should go for front-loading portable washer if you want to achieve the below objectives.
If you want to get the most gentle cleaning, it's known to be more gentle than top loaders.
If you want to wash larger laundry items (top loaders struggle with larger items)
Front Loading washers use less water, so if you want to be efficient and save water, consider front load.
If you have a dedicated laundry space, a Front loader can make an excellent fit.
Faster spinning ability (Spins faster than the top loading one's)
Note: This won't make a good choice if you are planning to buy one for your RV, Dorm or studio-sized apartment.
READ: Is it necessary to have a stand for Washing Machine?
b.) Top Load Washers
Top load portable washers are easier to load, as they have a door at the top of the washer that opens into the laundry compartment.
Their smaller sizes mean that even shorter or wheelchair users can use them with ease. 
Aesthetically, they have been labeled as more appealing, due to the absence of the loading door on the front.
One can also add last-minute items to the washer as they don't lock like the front load washers. 
Regarding wear and tear, they are regarded to be harsher on laundry due to the paddles that spin to clean the clothes. They are a little less pricey than the front loaders. 
Due to the placement of motors, they are easier to clean and repair than the other type, and with proper DIY guides, you can undertake basic repairs. 
Who Should Consider Top Load Version?
Top load makes a good fit if you want to achieve the below objectives.
If Durability and cost-saving is your priority (They are considered to be durable and require less maintenance).
Reliability – They are durable and most have a decent build quality.
If you are a DIY person – Top-loading washing machines have a lot of information available easily, also it's easy to repair.
No special detergents – Unlike Front loading, top-loading does not need any special detergents. A lot of front loaders need High-Efficiency detergents, top loaders do not need that.
Mobility – Top loaders are easy to move from one place to another.
READ: Top Load Vs Front Load Detergents
c.) Electric portable washers
After choosing the type of portable washer that you need, you will need to decide on an electric or manual washer. If you decide on an electric type, this is what you need to know 
Electric portable washers will be bigger than the manual type and will need a lot more space. They are faster and less exhausting but they will need you to make adjustments on space. 
Electric washers will cost you more water, and if you're headed, or live in a location that needs you to use it sparingly, then you will need to have done your calculations right. 
Some portable electric washers, like the GE 2.8 CU 8 cycle top loading washer, at 2.8 cubic foot volume (3 times larger than washers in its class), will offer regular-washer performances.
It can wash sheets and towels and has a rust-proof interior with an eight-level wash cycle.
Others, like the Costway mini, have timers that allow you to set just how long you need your laundry done to deal with stubborn stains. 
Some like the Best Choice Portable Twin Tub Washing Machine is perfect for those who will get smaller loads that need washing and drying.
You can easily fit it into your apartments, and as it hums smoothly, do your laundry at any time of day. 
Who Should consider getting one of these?
This makes a good fit if you want to achieve the below objectives.
If you want a washer for your RV (Since these washers are small it can make a good fit).
If you are a college student staying in a rented apartment.
If you want something efficient for the Dorm.
If your landlord is not allowing you for a bigger version.
Saving Electricity bills & less Water consumption is a priority.
d.) Pedal-powered Portable washers
Despite advancements in technology, most washing machines still need major tweaks to become environmentally friendly.
They handle smaller loads and require your physical exertion, but can be packed to the most extreme of locations, where water is scarce, and power is nonexistent.
There are also practical uses to make it more efficient, like the lid turning into a measuring tool and a push-to-drain button. 
Able to handle about 8 pieces of laundry in each load, leading makers like Drumi to claim to use 80% less amount of both water and soap.
With a washing load consuming 2.6 gallons (1.3 to wash, and a similar amount to rinse), they are as fast as they are efficient with resources.
Takes about three minutes to wash, two minutes to rinse, and a minute to wring out water. 
This pedal-powered washer can handle families with four members, campus residents, camping excursions, as a substitute in case of a power outage, or anyone seeking to reduce their water and energy usage. 
Who Should get this?
This type of washer is highly recommended for achieving the below objectives.
Save Electricity & Water
If you are a frequent traveler
If you are a student staying in a small apartment
If your landlord is not allowing larger versions of portable washers
If you want to carry a washer for your outings
Makes a perfect fit for RVs & Dorms
If you are under a tight budget
e.) Sink connection 
Washers can also be divided based on their connectivity type.
There are two different options when it comes to this.
The first group can be connected to your kitchen or bathroom sink using a faucet adapter.
In contrast, the second group requires you to manually load in water using a bucket or any other water-carrying container. 
You will need a water source and an outlet for this type of washing machine.
A hose takes clean water into the machine (most will need you to check for water levels), and another goes in to drain out the water. 
Who should consider these?
These types of washers go well if you want to achieve the below objectives.
Want to spend less on maintenance
If Durability and reliability is a priority
Easy mobility
If you are under a tight budget
f.) Manually filling water
Some versions have a hose inlet, while others will need you to manually fill up water with either a pail or a hose.
To prevent spilling and consequent wastage, be sure to confirm water levels physically.
Who should opt for the manual version?
The manual version requires very less attention to maintain and is extremely cost-effective.
These types of washers make an excellent fit if you fall into the below category.
If you are single and have very less laundry per use
Under a tight budget
Spend less on Maintenance
If you are looking for something durable and Reliable
If you are a frequent traveler
If you like DIY stuff
Saving water is a priority
So, now we know about the types of washers available in the market and their purpose.
But not all washers are easy to use, with those complex buttons and complicated processes not everyone gets to use the washer efficiently.
When selecting or choosing a washer that fits your requirement, you must always look out for the ones that are easy to use and troubleshoot.
A complicated working process can make using and troubleshooting very difficult.
Let's understand what are things to look out for when we say "Easy to Use".
3.) Ease of Use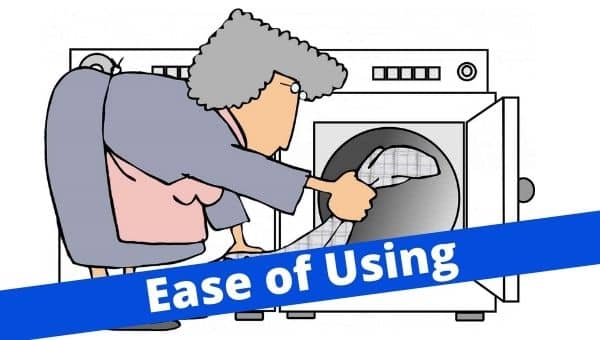 Some of the best portable washing machines have essential features such as LED screen displays and buttons that make the configuration process super-easy for you. 
Some of them even come with buttons that allow you to choose your preferred water levels and the wash cycle that will enable you to perform the best possible wash. 
When comparing different models of washing machines for ease of use, here's a list of things you'd want to consider: 
Are the labels on the controls easy or clear enough to be understood? 
How's the program selection? Is it intuitive or straightforward enough?
Does the machine include all the features you want?
If you're opting for a high-end model, will you be using all the fancy features? 
Make sure the filter is easy to clean. 
Make sure the fabric dispensers and detergent are easy to use. 
Is the lid or door opening large enough? 
Does the lid or door open far enough? 
While features and all the cool stuff look great, don't forget, you have to fit that in your apartment/dorms or in your RV. So make sure you look at the size as well.
4.) The Length/Width and how well they fit
The mini washers are loved for their compact sizes and how well they fit into tiny spaces.
The average size is about 20" by 25" by 20", with a load capacity of about 5 lbs. 
5.) Maintenance Cost
Your washer will probably cost more in repairs to the house than on fixing it.
Spills that need wooden floors redone, or carpets as the machine produces lost of moisture and can lead to floors, especially hardwood getting spoilt,
6.) How it Impacts Your Electricity Bills and Savings
Your bills will only go up slightly, as the mini washers don't use too much power.
Savings will be made on time spent at communal Laundromats and the financial costs of using external laundry services. 
Are you in a Hurry?
We have shortlisted some of the best portable washing machines. You can trust on us and be assured, we only choose the best products through our thorough research…
7.) Cleaning Efficiency
A lot of the washers are really efficient, electric, and pedal-powered. Examples include the GE 2.8 CU ft capacity portable washer, which has been consistently ranked as the best cleaner in its category. Electronic LED touchpads and eight wash cycles are some of its features.
8.) The Durability
Due to maintenance issues, a lot of the manual ones will last longer than the electric ones. Most of the brands are made out to be sturdy, and with proper care, they will handle a 4-5 lifespan easily.
9.) The Load capacity
The pedal-powered types will mostly take about eight items per load.
With the electric-powered ones, you can even do your sheets and towels on the larger-volume kind.
Check the size of the tub before purchase, depending on your needs. 
Most portable washers have a capacity that ranges from 5kgs to 18kgs.
You should therefore have no problem finding the right size of the washing machine for your home, cabin, RV, or camping tent. 
While larger machines work great with big households, don't be surprised to find out that you don't actually need such a big machine.
If you're like many of us, then probably you only fill your machine with only half of its capacity, which averages about 3.5kgs. 
You can start by calculating your load capacity and choosing your unit accordingly. 
10.) Advantages and Disadvantages of Portable Washers
Portable washing machines make a perfect choice for anyone with a low budget, or individuals living in a small apartment, with squeezed spacing, or peripatetic people that spend much of their time on the road traveling. 
Here are some of the benefits that come with owning a portable washer:
They have an easy set-up that makes them easy to use: Fret not because, with a portable washer, you don't have to sweat over washing hooks. As long as there's a sink connection nearby, these machines can be set anywhere – kitchen, bedroom, balcony, name them. 
Convenience: Portable washers tend to vary in size, shape, and color, but generally, they're small and compact.
Some of them even feature convenient handles that make it easy for you to move them around. 
They're lightweight too, which means no extra plumbing.
All you have to do is connect them to a faucet and drain the dirty water to a sink. 
Some can even be placed in a bag and brought with you to any traveling destination.
They're Flexible: Portable washers have different wash cycles, each designed to work with a specific level of grimness, load size, and textiles.
They can also be set for different water levels depending on the size of your batch.
This ensures that you're not wasting both electricity and water.
They Come with all Features that You can Find in a Standard Washing Machine: Portable washers are, of course, cheaper. But that's not to say they're compensating for something. 
If anything, some of them feature pretty much everything you can expect to find in a standard washer.
Plus, they are equally capable of delivering high-quality washing, if not better. 
Noticeable Advantages of Portable Washing Machine
Affordability 
Saves you space
Less water and power consumption 
Ease of assembly/dismantling
Environmentally conscious 
Disadvantages of Portable Washers 
Some landlords may refuse installation 
Smaller capacity 
Manual types are physically taxing 
Most will need you to sort out the drainage
11.) Ease of Installation
Most washers will come with a User instruction manual.
However, here's what the basic guidelines demand.
First, you have to locate it near a water source. Second, you have to ensure the washer is on the leveled ground and not slanting. 
And lastly, you have to make sure the hoses and cords are attached properly before powering it on. 
12.) Ease of Cleaning
Cleaning your washer keeps away odors and is part of the maintenance process. 
While cleaning, you have to first ensure your machine is unplugged if it's electric. 
You're also advised to use soap and vinegar in the interior and let it soak for 20 minutes before giving it a complete cycle.
Always dry off the water that collects after a load and clean your machine at least twice a month, especially for heavy users. 
READ: How to clean mold from the washing machine?
13.) Does your Apartment allow using Portable washing machines?
Check your lease agreement before buying a washer.
A lot of houses have an aging electrical and water supply infrastructure that is bursting at the seams.
That means adding other electricals will only punish the system further.
Landlords who pay for utilities will also not be pleased with the extra water and energy uptake by tenants. 
14.) Frequency of Use
With proper maintenance, a lot of washers can handle being powered on several times a week.
Most mini washer owners don't have too many days' worth of laundry given that they either live alone or with a partner, and the machine can handle it. 
15.) Mobility
When shopping around for a portable washing machine, one of the factors you'd want to consider is portability.
How do you plan to move it around? 
You certainly don't want to head home with a bulky, weighty machine
For this, you want to make sure the washer's weight is light enough and has wheels and/or a convenient handle to help you move it around. 
Because of their small size, portable washing machines are a grand candidate for all kinds of households.
Be it a cabin, tiny Apartment, camp, or RV; these machines are designed to fit effortlessly in the smallest of these spaces.
Plus, you don't have to store them where you use them.
Just get a unit that's portable enough, and you can always move it around and place it to a convenient storage place after use. 
16.) Overall Compatibility
The mini washer is an excellent addition to your cleaning life; a compact size, efficient, and affordable price will address a lot of your needs without major discomforts. 
Now that you know the 16 important points to consider before making a buying decision, let's take a quick look at how you can choose a great portable washer for yourself.
How to Choose a Portable Washing Machine?
In a market filled with hundreds of portable washing machines from different manufacturers, how do you choose the perfect washer?
Just because a particular brand of a portable washing machine is small and portable, that doesn't mean it's the perfect fit for you.
When shopping around for these mini machines, you don't just choose the first Portable washer that catches your eyes.
You have to dig deeper into the features and analyze your washing needs to make the right selection.
We just saw 16 important points to consider before taking any decision, right? Is it not enough?
Well…
The answer is no.
Those 16 points are just a framework to shortlist the portable washer based on general non-technical stuff.
Those essential points will lead you to or narrow down your research to an ideal choice.
Once you have figured out the ideal portable laundry machine for yourself simply scan through the below checklist to make a well-informed decision.
Below is the list of all the key factors to consider while choosing a portable washing machine:
Construction and Build quality of Portable Washer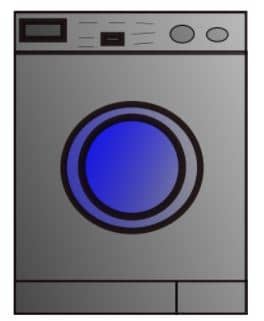 It's simple: you want your unit to stand the test of time.
So, why not start by checking what material the machine is made of before deciding which one to buy?
You can start by checking the drum of the machine, which can either be made from plastic, porcelain enamel, or stainless steel.
Of all these materials, drums forged with porcelain enamel tend to be the weakest.
They're less durable, chip easily, and more prone to rusting.
Plastic drums are sturdier than them.
However, the most durable of the bunch are stainless steel drums.
They can withstand the high spin speed and last even longer compared to the other two.
Size of your Portable Washing Machine
By size, we mean capacity.
It's not just a matter of choosing the largest portable washing machine.
You have to evaluate the size of your laundry and choose a machine you're sure can snugly accommodate it.
Generally, these machines tend to have a fair capacity ranging anywhere between 2kgs and 12kgs, in some cases even more.
Most of them can accommodate between a fair bit of laundry.
You, however, have to note that some of the portable washers have two tubs, where one works as the washer, and the other one serves as the drier.
In the end, what capacity you choose will depend on the size of your laundry.
Also, the size you choose will also influence how much water you use on each load.
To understand the ideal size of washer suitable for you based on the capacity and use, you can refer to the below chart.

Controls and Functionality of your Mini Washer
Not all controls in a portable washer are created the same.
While some of them boast LED displays with digital soft-to-touch buttons, others come with manual controls and knobs.
For convenience, a portable washer with an LED display and soft-to-touch button should be your preferred choice.
Also, you might want to consider other functions as well, LED time pointer, adequate temperature controls, end-of-cycle signal, energy efficiency, delay start functions, and more. 
Keep in mind that some of these functionalities might work for others, but that doesn't necessarily mean that they'll also work for you.
So, in the end, it's all about choosing what matches your preference.
READ: 20 Things you should know about Laundry Pods
Operational Efficiency of your Portable Washing machine
Some portable washers have numerous wash cycles, while there are those with only one or two of these cycles.
If you're planning to use the washer more frequently at home, we suggest you go with the one with the highest number of spin cycles.
This will allow you to set the right spin cycle for each piece of laundry you're washing for an extended laundry life.
For thick and heavy clothes, you can set your washer's spin cycle to 1000 rpm (revolutions per minute), and between 300 rpm and 500 rpm for lighter and delicate clothes.
READ: What is Soil Level in Washing Machine?
Noise Factor
You definitely want your washer to be as quiet as possible.
For this, you want to look at the dB of the washer that you buy.
So, how many dB will a quiet washing machine have?
Well, any model with less than 50dBs will be quiet enough for you.
On average, portable washers range from 40dB to 80dB.
READ: 6 Things you must know about Washing Machine Bearings
Your Portable Washing Machines Design
The word to underline here is portable. You want your mini washing machine to be as movable as possible.
For this, you want to make sure the washer has handles on the side, movable wheels, and a noise reduction plate.
The wheels and the handle are to make it easy for you to move your unit around, while the noise reduction plate is all about keeping your washer as quiet as possible while moving it.
Is your Portable washer Budget-friendly?
Portable washers are way cheaper than standard washing machines.
Their prices tend to range from $40 to about $300 depending on size, design, construction, controls, functionality, and a few other features. 
So now that you know the 16 important things to consider backed by some key information above, the next question that you may still have is "Are portable washers a good fit for my need?"
Well!
Let's take a quick look if it's suitable for you.
READ: How to wash a down jacket in Washing Machine?
Who Should Buy a Portable Washing Machine?
Wondering whether to get a portable washer or a standard one, here's a list of people that could benefit the most from the mini washer.
Those Who Live in Mobile Homes
One common problem that mobile home dwellers battle with all the time is space.
The space is always limited and a major influencing factor on what home appliances to buy. 
A compact washing machine is preferred for its size.
It's small and only requires a little space, and when you're not using it, it can be safely stored in your hall closet. 
Apartment Dwellers
The odds are good your Apartment doesn't have a washer hook-up.
It's no wonder many apartment dwellers still visit the laundromat, where you first have to load them with coins to use – one to three dollars per load.
This is not cheap!
But that's not a big deal compared to the risks you're exposed to.
Do you even know who used the washer before – and what exactly were they even washing? 
That's why it's advisable to just get your own portable washer for your peace of mind.
Families with Kids
Being a family person means you have to stay prepared for unexpected messes. 
Doing your laundry isn't a chore you set aside for only once or twice a week.
You have to be prepared to do your laundry almost every day, in small loads.
You can't pile up your kids' clothes. 
A smaller washer can save you the trouble of waiting until your clothes pile up before washing them. 
It's also economical since most of them consume less electrical energy and water. 
Those Looking to Save on Energy and Water
Ever felt like your energy and water bills are putting a strain on your monthly budget? 
Well, one way to reduce the amount you spent on these bills is to consider replacing your full-size washing machine with a portable one. 
Although it's going to take you much longer to wash a big load, you'll most likely lower your bills to almost half. 
College Students
There's no sense in bringing a full-size washing machine into your dormitory or hostel.
The room is already squeezed!
Plus, it's not like you got that much of a big load unless you're also planning to start doing your friends' laundry.
Getting a small washer can save you the trouble of lugging your laundry to the laundromat or your parents' house.
It's more convenient and will, in the end, save you a lot of money. 
Alright!
Now that we know what are the key points you need to consider before making a buying decision, let's go through the list of some of the best portable washing machines that we have shortlisted.
The Process for shortlisting was not so easy, we had to go through each and every washing machine listed in Walmart & Amazon and then we scanned for reviews.
The criteria for making it to our list is fairly simple, it has to have 150+ Five star ratings and at least 150+ sales.
This criterion is only for your understanding and it's on a high level.
While we are not only looking at a 5-star rating but we also looked into many factors like durability, capacity, and many other factors discussed above.
While there are many technical factors that we have considered before making it to our list, we have kept things on a high level as this article has already become too long 🙂
Cutting the long story short, let's jump to the list of best portable washing machines for 2020.
Are you in a Hurry?
We have already shortlisted some of the best portable washing machines based on the criteria we are discussing. You can trust on us and be assured, we only choose the best products through our thorough research…
READ: 14 Things you shouldn't wash in your washer
Best Portable Washers for 2022
We have listed 8 portable washers from each category we discussed above, starting from the one that fits in the apartment to one that fulfills specific needs such as washing shoes.
Magic Chef Compact 0.9 Cubic Feet Top Loader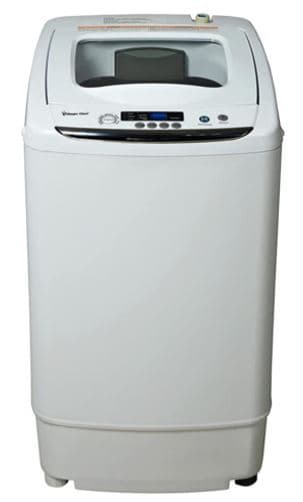 Magic Chef Compact is a five-star rated top loader, with hundreds of reviews on the web.
The washer boasts the same features you can find in a full-sized washing machine.
It's incredibly adorable, with a 0.9 cubic capacity big enough to hold a decent-sized load. 
This compact washer features electronic controls, a see-through top window, and a stainless-steel inner-tub.
It's also one of the most straightforward portable washers to use.
All you have to do is attach its water supply hose to a nearby water faucet.
You can then proceed to choose from the five water cycles: gentle, regular, quick, soak, and heavy.
The washing machine also comes with three water levels to choose from.
Reviewers have a lot of nice things to say about this washing machine, with many of them writing it as an ideal solution for RVs and small apartments.
Key Strength
At 44.1 pounds, the Magic Chef is relatively lightweight compared to many of the units on the market.
Its dimensions are 20.5in by 33.1in.
The machine is built with the latest technology and laced with all the modern features one would only expect to find in a high-end washer, including digital displays, touchpad controls, LED indicator lights, adjustable legs, and a see-through glass lid.
The washing tub is crafted from stainless steel, so as not to interfere with the texture and quality of your clothes.
A high-performance pulsator controls the tub movement, with the water moving in both weak and strong flows to ensure your laundry is washed evenly.
The machine operates smoothly and quietly, except when it's overloaded. But most of the time, it's silent, almost unnoticeable. The alert tone that the machine makes at the end is also low enough. So, you do not have to worry about disturbing your neighbors.
This machine only comes in one color, white. It's energy-efficient, with five automated washing cycles that allow you to wash both light and heavy clothes with it.
The only drawback is that it has no dryer. It, however, features a spin cycle that does a stellar job draining all the water from your clothes, thus reducing the time that your clothes take to dry.
Still, you might want to purchase a dryer separately.
The Pros and Cons of a Magic Chef Washer
PROS
CONS
1.) Energy efficient
2.) High Performance
3.) Works with all types of cloth fabric (light, heavy, sensitive, and jeans)
4.) All of its parts work efficiently
1.) Relatively heavy
2.) It's relatively expensive but worth every penny you spend on it
Quick Installation Video
Get the detailed user Instruction Manual here…
Midea 3Kg Compact Washer with Sink Connectivity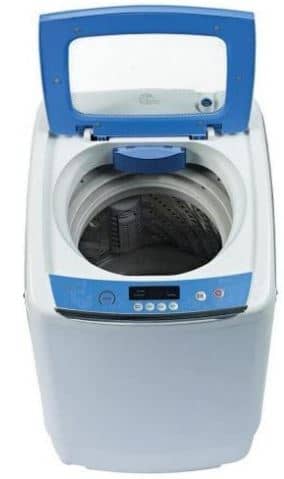 It doesn't matter whether you're using it to wash delicate clothes or remove deep stains, Midea 3Kg compact top-loading washer offers a wide range of functionalities that promise to leave you all smiles.
The machine is designed with multiple pre-programmed wash cycles that make it an ideal washer for almost all types of clothes, both light and heavy.
It's small but certainly built for this.
In other words, this washing appliance has the ability to wash all your clothes in a day, no matter how big your load is.
It's relatively small compared to other compact washers. With dimensions of 20' x 20" x31," it's safe to say that its size allows it to fit in the tightest living spaces.
The machine only weighs 44.1 pounds when empty, which makes it highly movable. It's mounted on two wheels, which makes it easy to roll to a nearby water sink and connect it.
Functionality and Operation
This washer is super-quiet, almost unnoticeable if you're in the other room.
With a Y splitter, the machine can be hooked to both cold and hot water inputs for an even more effective wash.
The washer comes with three water levels and five wash cycles, which allows you to save water and wash almost all types of clothes.
Also added to its setting are three water temperatures, hot/cold, cold/cold, and warm/cold.
Portability
Midea is as portable as you'd want a machine of its kind to be.
It can be easily nestled into your kitchen, regardless of how squeezed it is.
It's small and easy to wheel across a tiled floor.
The washer can be safely stored in a utility closet.
It's also recommended that you buy separate casters for easy movement across rooms.
Plus, the casters help to dispel the noise further.
Pros and Cons of Midea 3Kg Compact Washer
PROS
CONS
1.) It's super compact and lightweight
2.) Five wash cycles and three water levels, which make them versatile. You can use it to wash absolutely any type of cloth, both light, and heavy ones, or anything in the middle.
3.) Three water temperature setting
The stock wheels are not satisfactory enough. It would help if you considered buying separate casters.
Get Midea 3Kg Compact Washer Instruction manual here…
Avalon Eco wash Portable Hand-cranked Manual, Non-electric Washer
The Ecowash portable washer is a compact, non-electric washing machine dedicated to RV, camping, boats, etc.
The machine features many fast-washing features that make it ideal for washing delicate clothes more gently.
Size and Construction
This portable washer only comes in white color. It's small (17.5"x16"x18") and lightweight enough (5lbs) to move around).
Its inside is designed using non-toxic metal elements that make it completely safe for washing even the most sensitive of clothes.
Functionality and Operation
It's a hand crank-powered washer big enough to wash up to 5lbs of clothes within minutes.
The machine sports a host of pressurized washing features that enables it to wash your clothes thoroughly.
It can even clean the dirtiest stain on your clothes, not by sheer force but using smart technology.
It's one of the easiest washers to operate on the market, besides acting as a power saver.
It can work with no electricity, and with only a fraction of the water or electricity that you could have used in a standard washer.
Portability
It's lightweight and highly portable, which makes it an ideal choice of a washer for RVs, apartments, boats, campers, and so on. It's the machine to go for if your biggest concern is space.
Pros and Cons of Ecowash Portable Hand-cranked Manual, Non-electric Washer
PROS
CONS
1.) Fast washing features
2.) Eco-friendly design
3.) Gentle washing
4.) Convenient for portability
Flimsy drain pipe. You have to be extra careful with how you handle it.
Quick Video on how it works
Get Ecowash Portable Hand-cranked Instruction manual here…
Rovsun Portable Twin Tub Electric Washer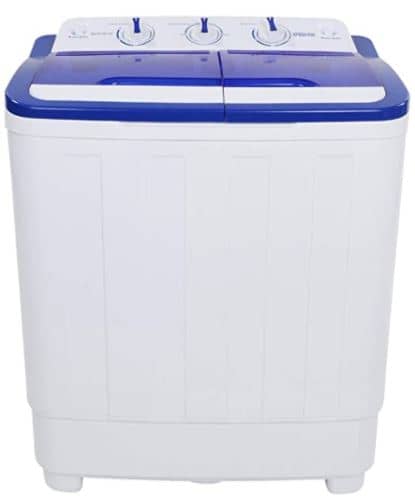 The Rovsun Twin Tub Electric is a handy appliance if your Apartment or room is short on space.
It's a company washer with a decent load capacity to handle all your laundry needs.
The machine excels in both washing and spin-drying clothes. You'll be stunned by the machine's performance.
It might be small, but it's built to wash a variety of clothes – jeans, light clothes, heavy ones, and so on.
Size and Construction
The machine arrives outfitted with a twin tub – one for washing and the other one for spin-drying.
It's available in two solid colors, white and blue.
For the most part, it's manufactured with premium-quality plastic and polypropylene, while its washing cylinder is fabricated from stainless steel, which also adds up to its innovative quality.
Its dimensions are 24.4"x14.3"x28.7." Not to mention its total laundry capacity is 16lbs, including 5lbs of spinner and 11lbs washer.
Functionality and Operation
This is one of the easiest washers to operate.
All you have to do is add your clothes, followed by detergent and water, after which you can set the timer, and that's it.
Now you can Relax or keep yourself busy with something else as you wait for your clothes to wash.
Its 1300rpm motor and 110V/60Hz frequency also makes it one of the most powerful washers on the market.
The washer control timer is designed to run for 15 minutes, with the spin cycle timer running for 5 minutes per load.
It's among the few washers that allow you to both wash and dry your clothes simultaneously.
Portability
This washing machine is as elegant as you'd want it to be, if not better.
Its compact size makes it an ideal choice of a washer for a camper.
You can also bring it with you to a caravan or your hotel room if you feel like your clothes could use some washing.
It's easy to store, and its small size makes it ideal for squeezed space, which makes it ideal for dorms, apartments, RVs, college rooms, and camping.
Pros and Cons of Rovsun Portable Twin Tub Electric Washer
PROS
CONS
1.) Convenient operation
2.) Portable design
3.) Saves energy
4.) Less noise
5.) Twin tub washer
Its hose doesn't fit in all sink
Instruction Manual: Get the User Instruction Manual here..
Yirego Drumi Foot-powered Washing Machine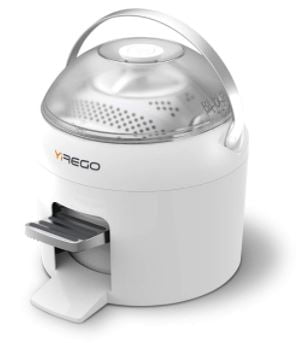 You can pedal your clothes clean with this foot-powered washer.
It's a new product that's so different, with no exact match on the market.
It's a crowdfunded project that was first introduced in December 2015.
It's taken years for the product to arrive, and it's everything (or perhaps more) of what it's cracked to be.
You shouldn't dedicate an entire day to doing anything else but laundry.
But sadly, that's what most people do.
They pile their clothes for weeks or even months, as they wait for the load to grow big enough for their standard washing machine.
Through Drumi, this is what this Toronto-based Startup, Yirego, was hoping to bring to a stop.
Their goal was to introduce a portable washer that uses little water and can operate off the grid.
The appliance works so simply, by letting your foot do all the work.
It pumps the water and the detergent you're using around a small bowl filled with clothes.
The washing bit tries to blend in old-school hand-washing with modern-day eco-consciousness.
It's designed to handle clothes in demand!
It's not a machine to replace bigger washing machines but to complement them so you don't have to completely rely on them.
The appliance uses less water 🙂
It also reduces the energy needed to wash your clothes. Plus, you don't have to wait for your clothes to pile up before you wash them.
It's a real-time saver and designed to churn out batches every 10 minutes.
Small but Effective
Drumi is definitely one of the smallest washers on the market. It also has no wheels, lights, and all the funny noises associated with small washers.
That's because it doesn't include those complex electrical components.
Instead, it's made up of a few key components that facilitate all the washing.
Standing 22 inches tall, this contraption of a washer only weighs 15 pounds, with a 10-liter capacity.
It's small but sizeable enough to get the job done.
Anyone can use the appliance. You simply add your clothes (delicate ones included) until the drum is half or three-quarters full.
You then proceed to pour in water (about 5 liters of water).
Don't worry, the drum has calibrations that you can use to tell if you've poured the right amount of water.
After you're done pouring the water, you can go ahead and latch the white plastic cover.
The next thing you want to do is add your detergent (and bleach or fabric softener, if necessary) to the cover's opening.
You can now put the glass lid on and proceed to wash your clothes.
How you ask…
You simply pump the pedal for precisely two minutes and open the spindle (found at the back of the machine) to release the dirty soapy water.
Add another five liters of clean water, and then pump the pedal for another two minutes and open the spindle again to release the dirty water.
Do this at least three times or until the water coming out of the spindle is convincingly clean.
You can now remove the clothes and hang them in your clothing line to dry or place them in a dryer if you have one.
Pros and Cons of Yirego Drumi Foot-powered Washing Machine
PROS
CONS
1.) Elegantly designed. You'll certainly love the design.
2.) Lower carbon footprint
3.) Uses less amount of water compared to other washers
4.) Reasonably priced. It's also easy to maintain and more durable than most washers.
1.) You'll need a hose to remove the water
2.) Can only complement a washer, not replace it fully
3.) After you order the machine, you have to wait to get it
4.) Its stain-removal efficiency is still not clear
A quick sneak peek at how it works
Instruction Manual: Get the User Instruction Manual here…
Speed Queen 3.3cf Top Load Washing machine
The Speed Queen 3.3cf top-loader could make an excellent option if:
1.) You're looking for a washer that fills to the top
2.) You want to control its temperature and water level manually.
However, if you're looking for an energy star, then too bad you cannot have the cake and eat it too on this one.
Speed Queen's priority was on designing a washer that satisfies your needs, not one that only cares about achieving a solid Energy-star rating.
This machine was designed to accommodate all types of loads.
It was to also meet all the Department of Energy standards for energy usage and water consumption with the normal eco-cycle.
If your priority is on using higher water levels, a resonant rub rise, a full-size agitator, or are looking for a cycle that can save you tons of money on energy.
Here's a portable washer that offers you the best of both worlds.
Features
This washer comes with a 210-degree agitator, delivering 60 strokes per minute, and maximum water to laundry contact.
It also features tubs that spin during the washer's draining process, Thus preventing dirt from accumulating in the washer.
It offers nine pre-set wash cycles and four temperature settings.
Its motor can produce a maximum of 710 RPM and a 150 G-force rating.
It also features dispensers for bleach and a fabric softener, with an option to set it up such that it can dispense each of these items in the last cycle of the washing process.
It goes without mentioning the extra rise option that works to reassure you you're your clothes have been properly cleaned of any dirt or soapy residue.
Its outside appearance is clean white.
Not forgetting the mechanical knob controls that are very straightforward and a snap to use.
Automatic Balancing System
Unbalanced washers produce annoying sounds. However, the Speed Queen top-loader boasts an automatic balancing system that can adjust itself to a smooth and quiet spin cycle.
210 Degrees Agitation Stroke
The Speed Queen features an extra-long 210 degrees agitation stroke, producing 68 strokes per minute.
It's designed to thoroughly clean your laundry by stroking it gently, thus reducing the strain it puts on your clothes fibers. 
Variable Water Selection
The Speed Queen is one of the few washers on the market that offers flexibility on the amount of water that you can use.
Whether you want to use only a small amount of water or a lot of it, it's your call to make with this washer.
High-speed Water Extraction
Spend less time washing your clothes. The highspeed water extraction rate means the machine can easily get water out of your clothes.
Your clothes should therefore dry even faster, thus saving you huge chunks of your valuable time.
Galvanised Washer Cabinet
To keep your washer glowing and as good as new, its exterior comes laced with three layers of commercial-grade finish. 
Pros and Cons of Speed Queen 3.3cf Top Load Washing machine
PROS
CONS
1.) Sturdy Construction
2.) Five-year warranty
3.) Flexibility on the amount of water you can use
4.) Gently on your laundry
1.) Sturdy Construction
2.) Five-year warranty
3.) Flexibility on the amount of water you can use
4.) Gently on your laundry
Here's how Speed Queen technology works
Instruction Manual: Get the Speed Queen User Instruction Manual here…
Giantex Portable Mini Washing Machine
Giantex portable mini was designed for lower-tier income earners.
The company's priority was to come up with a washing machine that was affordable to all.
Make no mistake, though: the Giantex portable mini is as feature-rich as any other portable washer on the list.
First, it sports a twin tub that allows you to wash and dry batches of clothes at the same time.
This innovative appliance boasts a compact design that works well with dorm rooms, recreational vehicles, and homes.
It comes in two colors, white and blue.
Space-Saving Design
This machine is ideal for small and delicate loads. It's also lightweight and easy to move around.
The was motor is also powerful, producing 110 watts of spinner power and 330 watts of washing power.
Relief from Hand Washing
The machine has a washer time of 15 minutes and a spin timer that can go up to 5 minutes per load.
The Giantex Portable Mini washer offers so much freedom and options, even more than those provided by a standard pre-programmed washing machine.
This unit offers a washing capacity of 8lbs, at only 37.4lbs of weight. It can support a decent load size. Plus, it's so much easier to move it around once done.
Another perk worth mentioning is the built-in aluminum drain pump and the drainage pump that automatically drains out dirty water at the end of each cycle.
You can switch the washer on and then step out without worrying about anything.
It also comes with three water levels for you to choose from depending on the size of your batch.
This is also meant to help you save on electricity and water by avoiding unnecessary spillage and effort when washing certain load sizes.
Pros and Cons of Giantex Portable Mini Washing Machine
PROS
CONS
1.) Compact twin tab washer
2.) Duel inlets in the spinner and washer
3.) Removable lint trap
4.) Gentle on delicate laundry
Small load capacity
Instruction Manual: Currently Unavailable, drop an email to service@Giantexer.com …
Smart Lazy Automatic-Disinfecting Small Compact Shoes Washer
Smart Lazy Automatic disinfecting shoe washer does more than just wash your shoes; it eliminates shoe odor.
Keep in mind that this machine can only wash shoes, not clothes.
It's the fastest way there is to clean your shoes.
Arriving with it is an electrostatic micro-shock high-power-pulsed ionization oxygen technology that goes the extra length to ensure your shoes not only looks sparkling clean but is also disinfected and odor-free.
Full Cleaning of Your Shoes: This machine leaves no dirt unattended to.
The special nylon brush is designed to dig deeper into your shoe's fibers, and effectively clear all the stains and dirt.
The goal is to leave your shoes glowing and deodorized, with little time and effort.
High-performance Mortar: This washer boasts a powerful mortar, strong enough to wash stains off your shoes without hurting its fiber.
It's also silent and can even go undetected when seated in the next room.
2 to 4 Pairs at a Time: This portable shoe washer allows you to wash two to four pairs of shoes at a time. That's enough to cater to all your family needs.
360 Degree Ultra-violet Blue Light: The 360 degrees of blue light has one of the most substantial sterilization effects, strong enough to put an end to all your moldy troubles.
Weighs 17.64 pounds, which makes it extremely lightweight and easy to move around.
Pros and Cons of Smart Lazy Automatic-Disinfecting Small Compact Shoes Washer
PROS
CONS
1.) Easy to Use
2.) Can eliminate Odour
3.) Designed with the latest technology
4.) Offers all-rounded shoe cleaning
1.) Only works on shoes
2.) Not effective on stains, especially protein-based ones
Note: The ratings on Amazon have dropped off late for this model of shoe washer, but we still think this is the best when you compare it with any other portable shoe washers. We did see new shoe washers in amazon, but they simply fall short of features when we look at this. We will keep updating this section for up-to-date and honest information.
Instruction Manual: Currently Unavailable
Conclusion
To sum it all up, a portable washer is an invaluable piece of an appliance for those with limited space to accommodate a full-sized washing machine or those on the road. 
These washers are as good as the full-sized ones.
They're efficient and convenient, especially if you find one with a built-in dryer. 
Were we able to answer all your queries OR doubts? If the answer is no, we would definitely want to know from you.
Also, there are high chances that the questions or queries that you may still have is already answered in our FAQ Section.