A good washing machine stand not only protects the washer from rust but also enables mobility and allows you to clean the dirt below. Furthermore, it becomes a smart choice for individuals who have limited space to work with.
But do you really need a stand?
Are the Pros more than the cons? What type of stand fits best?
There are many questions that may come up while deciding on a perfect setup.
In this article you are going to learn about:
What a Stand is?
How to choose the one?
The Pro's and Con's
And More…
Let's get started.
What is a washing machine stand?
A washing machine stand is an object that supports and holds the washer at some height. It allows you to place the washer at a comfortable height from the ground to prevent rusting and other damages caused by dirt and constant exposure to water. Moreover, it also allows mobility if it has wheels.
There are different types of stands available, some offer mobility and some come with fixed attachments. So, if you are using one with wheels, you will certainly get the benefit of moving your laundry machine from one area of your house to other, especially if you are working with limited space.
READ: Can Vinegar Damage Washing Machine?
Why you should use a washing machine stand?
Since a decent stand offers a lot of flexibility, in terms of maintenance and prolonging the lifespan of the washer, it makes a lot of sense to use it wisely.
Having said that there are multiple benefits to using a good quality stand. It not only increases durability but also helps to optimize space.
Here are some benefits of using a good quality stand:
Prevents the Base: A well-built stand with decent ground clearance will not only prevent the bottom part of the washer from rusting but also offers long-term benefits by prolonging the lifespan of your washer. If your laundry machine is placed in a bathroom or area where the floors are always wet, there are chances that the bottom part of your washer may get damaged. Furthermore, with every washing cycle, there is always a possibility of water spilling, resulting in a wet floor, which again leads to the same challenge of preventing the base from damage related to water. In such scenarios, it becomes extremely important that you get a good stand to prevent the base from rusting and water damage.
Mobility: Many individuals at the time buying washing machines have mobility as their top priority. In fact, doing a Google search on "washers with wheels" gave the below results.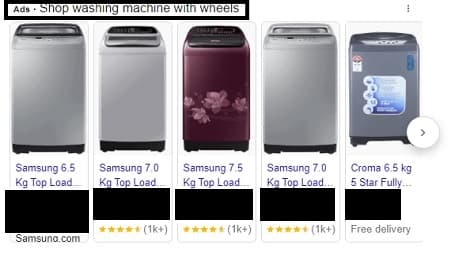 This shows manufacturers are now beginning to listen to their consumers' voices.
So, it's a fact that mobility is a priority for a lot of individuals, especially those who have very limited space to work with.
With the help of a decent stand, you can easily move your laundry machine to the desired location as and when required. Furthermore, a stand becomes an absolute blessing for scenarios where you want to repair the washer OR situations where you want to get the servicing done, it is extremely convenient for moving and shifting.
Increases the height: Since most washing machine stands have good ground clearance, it also means that your washer's height will increase. Your washer's Increased height may ease the bending posture, thereby making it comfortable to operate. However, for some, it may not be very comfortable as different individuals may have different preferences.
Tip: If you are using a front load washing machine and stand is an absolute requirement, it's advisable to go for a heavy-duty trolley stand with a wheel locking system. This is because front-load machines tend to have a higher RPM. In this process, the machine tends to vibrate if the base is not stable.
READ: What is Soil Level in Washing Machine?
Different types of Washing machine stands
There are various types of stands available for washing machines, below are a few examples you can refer to.
Make sure you read the warranty details before you go for a stand and do not hesitate to consult the manufacturer support team.
Adjustable Wheeled Metal Stand
Since most washers don't have wheels, there are many alternatives.
One of the most commonly used stands is a trolley stand.
It is not only adjustable but also offers a lot of flexibility, as most of them can be adjusted according to your washer's width.
A good quality trolley stand made up of metal, also comes with special anti-rust coatings. So if you are buying a metal stand with wheels, ensure to check if it also has an anti-rust coating.
Heavy Duty Trolley Stand
The word trolley stand simply means these stands come with wheels attached, this helps to move your washing machine whenever there is a need to move them.
Most Trolley stands come in fixed-size as well as adjustable sizes with 360 degrees rotating wheels. The wheels also have locking systems that convert them to a fixed stand whenever needed.
These stands are mostly available in stainless steel OR rust-free coated metals.
Heavy-duty Trolley Stands are designed for higher durability and to hold maximum weight capacity. Some heavy-duty trolley stands are made up of hard polymer plastic, which tends to last longer, therefore making it an ideal choice for heavy and bulky washing machines.
READ: How to Clean a Portable Washing Machine?
Grip base Stands (comes into 4 Gripped pieces)
This type of stand is like the base supporter for the washing machine.
This type of stand does not offer mobility, as it's a simple tiny rubber that gets attached to your washer's leg. Most top load washers and sometimes front loaders have four tiny legs at the bottom, this is exactly where the tiny grip base stand is placed.
Gripped supporters are supposed to be fixed, and come in four-piece sets.
They are mostly available in round (Curved) or square or rectangular shapes. Such stand supports are either made of hard plastic or hard rubber.
While these tiny stands don't offer mobility, it has the best vibration-handling capability.
It only provides a solid grip but handles vibration better than any stand you could think of.
Furthermore, it's also recommended to be used on slippery surfaces to keep the washing machine stable when in use.
Lastly, it does provide a decent ground clearance, enough to let the water flow from the below surface. It's also pocket-friendly and easy to install, as there is no special preparation required.
READ: How to Troubleshoot a Portable Washing Machine?
Washing Machine Floor Stand (Adjustable Stand without wheels)
This stand type also comes in fixed-size as well as adjustable sizes.
These are not like trolley stands which can be easily moved from one place to another. Adjustable stands without wheels help to keep your laundry machine stable at a fixed spot.
Yes, it allows you to easily clean the base (Floor) where your washing machine has been placed due to decent ground clearance.
This type of stand is ideal for those who have a fixed space allotted for their washing machine.
READ: Fabric Softeners: 20 Things you must know
Which type of stand is best for a washing machine?
Should be easy to Install and Uninstall: The ones that are easy and quick to install should always be a preferred option as you must not forget the hygiene part. Even if your washer needs maintenance, it may become difficult if you go with a fixed installation.
Should Be Adjustable: Adjustable stands are more convenient when compared to fixed installation stands. Adjustable stands tend to offer more benefits, as they can be used as a fixed installation object as well as offer mobility benefits whenever needed due to their wheel locking capabilities. If you have a fixed and sufficient space for your washing machine then you may go for a fixed washing machine stand.
Should be Mobile: If you are setting up your washing machine in a compact area, where you need to move it most of the time then you may go for a stand attached with wheels.
Easy to Clean and Maintain: While choosing a stand for your washer make sure you have cleaning and hygiene as a top priority. Getting a stand and ending up in a situation where you can't clean and maintain the washer will certainly not be the wisest choice. This often happens when you go for a fixed installation. If you are opting for a fixed installation make sure you have this point covered.
READ: Laundry Pods: 12 Answers you should know
Which stand is good for a front-load washing machine?
There are tons of options available for both front-load as well as top loaders.
Both static, as well as wheeled stands, can be an option depending on the requirement.
For Front-Loaders, a Heavy-Duty Trolley stand with a wheel locking option is an ideal choice if mobility is your priority. If moving your washer within your house is not the priority and if you can maintain hygiene, you can always opt for a fixed setup with OR without the stand.
Front-Loader has much higher RPMs than a standard top-loader and that's the precise reason why you must have a solid base. Since Front-loaders require a strong base, it becomes extremely important to have a wheel locking option.
Bottom Line: Any stand you select should have a solid base. If it does not meet these criteria, it's best to go with a fixed setup (Provided you can easily clean and maintain your laundry machine).
READ: High-Efficiency Laundry Detergent: 11 Things you must know
Which stand is good for a Top load washing machine?
Top Load washers are less demanding than the front-loaders when it comes to choosing the right stand.
For top loaders, an adjustable wheel stand is a good option especially if you have limited space in your apartment. Adjustable wheel stands have good ground clearance, so you can easily clean the dirt beneath.
If you want a fixed setup, it's advisable to go for a hard plastic stand that has a good ground clearance.
READ: How to Wash a Down Jacket in Washing Machine?
Can we use a plastic stand for a washing machine?
Yes, plastic stands can be used for washing machines keeping quality in mind.
You need to make sure the plastic stand should be a solid strong (polymer) plastic stand. There are mainly two types of plastic stands, one that has wheels for mobility and one without wheels, also known as a fixed stand. The major benefit of a hard plastic stand is that it has a longer lifespan and it does not deform easily.
READ: How to use a Portable washing machine effectively?o
Pros & Cons of washing machine stand
While we all know good things about laundry machine stands, there are a few cons as well. Let's take a quick look at the pros and cons of a stand.
| | |
| --- | --- |
| Pros | Cons |
| Keeps the Washing Machine Surface protected from rusting. | Wheels are prone to damage in most cases (e.g. Jammed Wheels). |
| Allows you to move your Washing machine with ease. | Plastic stands may crack if the quality is compromised. |
| Fixed stands help to keep vibration in check. | Rusting may occur if there is improper care. |
| Makes it easy to wash and clean the surface below the washing machine. | Excess vibration, if the wrong stand type is selected. |
| Increases the height and may be comfortable for many. | May void warranty. |
READ: Washing Machine Bearings: 6 Things you must know
Final Thoughts
While shortlisting a washing machine stand, always check for reviews if available.
If you are going for a metal stand, then make sure it is made up of stainless steel or rust-free coated metal. If you choose a rubber stand OR a plastic one without wheels, always ensure it's made up of strong and durable material with a solid grip to hold the base.
The Ideal Washing machine stands totally depends on the washing machine type and location where you want to place it. If you have placed your washing machine on your balcony or your terrace, it's recommended that you go for a trolley stand.
Lastly, Whenever you clean or get the servicing done, ensure to check the stand as well. If your stand is adjustable with fixed wheels, just check if it's still moving freely and you are able to adjust it effortlessly. If required you may have to grease the adjustable metal areas, wheels, and other movable parts.