Dettol liquid is a powerful disinfectant that can be used for cleaning surfaces, floors, tiles, and even laundry.
It is available in different strengths and dilutions for different purposes.
It is widely used as a disinfectant in the laundry and this is simply due to its ability to kill germs and bacteria effectively.
Dettol solution is versatile and used for ages in many households across the globe.
In this article, you will learn how to use the Dettol liquid as a disinfectant in your laundry.
What are the main ingredients of Dettol liquid?
Dettol liquid is mainly used in homes and hospitals to prevent the spread of germs and to disinfect clothes.
The main ingredients in a Dettol liquid include Chloroxylenol, Terpineol, Alcohol (Denatured) equivalent to absolute alcohol, Caramel (color), and Excipients (q.s.) used for medication.
The active ingredients of Dettol liquid include various types of phenolic compounds that are responsible for antiseptic and antibacterial properties. 
It is effective against a wide range of bacteria, including both gram-positive and gram-negative bacteria.
Moreover, it is antifungal and works by disrupting the cell membrane of the bacteria, which kills them in no time.
How to use Dettol liquid as a laundry disinfectant?
For using Dettol liquid in your laundry, it doesn't matter if you are washing your clothes by hand or by using a machine. It can be used as a disinfectant regardless of the washing method.
Let us look into the steps to use Dettol liquid effectively in your laundry.
To use Dettol liquid you should be careful enough with the quantity that you will be using.
Simply, do not pour excess Dettol liquid in excitement to kill germs and bacteria in a fast-forward way.
Here's how to use Dettol liquid effectively.
For hand washing garments
You can add two caps of Dettol liquid in a sink or a basin filled with water.
It can be included with the mixture of your regular detergent.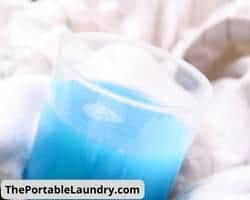 (Note – To pour the liquid you can use the cap of the Dettol liquid bottle.)
Place your desired garments in the sink or basin and wash them as usual.
It can also be included during the rinse process after the wash.
Simply add two capfuls of Dettol liquid in clean water and rinse your garments.
Dettol liquid mixes with the water in no time, you can use your hands to mix it evenly with the water.
To remove the excess fragrance of the solution simply rinse the clothing with clean water before you put them to dry.
For Machine Washing
Mix two caps of Dettol liquid in a bowl or jar with at least 500 ml of water.
This will help to dilute the solution before pouring it into the washtub.
Next, pour the mixture directly into the washtub of your washing machine and load your desired garments.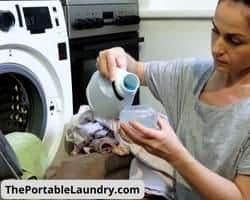 Run the desired wash cycle using hot or cold water and continue the normal way.
Using Dettol liquid in a washer during washing, not only disinfects your clothes but also the machine.
Other common uses of Dettol Liquid
You can use Dettol liquid as a treatment in multiple ways and we have listed a few below.
First Aid
You can use a Dettol liquid to clean minor wounds and include them in your first aid kit.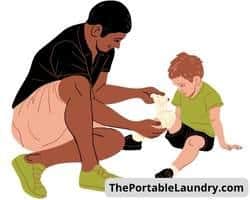 Simply grab a bowl and add 1 tablespoon of Dettol Liquid in 250 ml water. Dip cotton balls and clean minor wounds for further treatments.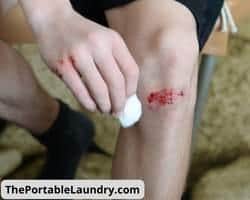 Shaving
Dettol liquid is used in salons and even at home to disinfect your shaving kits such as razors after every use.
Mix two teaspoons of Dettol liquid in a mug filled with water and dip the razor blades, and leave them for some time.
Next, Rinse them with clean water to store them for further use. It can also be diluted and applied to the skin as a disinfectant after a shave for any minor cuts.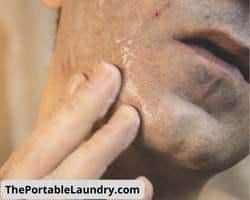 Nappy Wash
Baby nappies can be rinsed or washed by mixing 1 tablespoon of Dettol liquid per 500 ml of water.
Simply, mix it with water in a bucket and rinse the nappies thoroughly after wash.
Bathing
One teaspoon of Dettol liquid disinfectant is sufficient to work with a bucket of water for bathing.
Floor Cleaning
You may include Dettol with floor cleaners or only use Dettol liquid alone to clean and disinfect the floorings.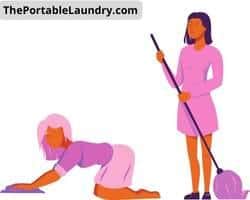 Safety Precautions while using Dettol Liquid as a disinfectant
Although Dettol Liquid is effective at killing bacteria and viruses, it is always important to take precautions when using it.
Let us discuss a few below:
Dettol liquid can be toxic if ingested, therefore, if you accidentally swallow some of the liquid, it can cause several health problems. If it happens by accident the safety instructions suggest drinking a lot of water or milk.
Undiluted Dettol liquid can cause irritation to your skin.
It is not recommended to use it around sensitive organs such as the eyes, nose, ears, and mouth.
Also do not apply this solution to children below one year of age.
Not recommended to use during pregnancy. One should not apply Dettol liquid to the breast areas in case of breastfeeding.
It is not recommended for people who are allergic and individuals who are suffering from Eczema.
Make sure to cover your sensitive organs, especially the eyes, nose, and mouth while using the solution as a spray.
Final Thoughts
Dettol is not only an excellent first aid solution for wounds but it is also a powerful laundry disinfectant.
If you are using the solution in a spray bottle just make sure to cover your sensitive organs, especially the eyes, nose, and mouth.
Lastly, keep them away from children.
Frequently Asked Questions
Can I use Dettol liquid to disinfect leather garments?
Yes, you can use Dettol liquid to disinfect your leather garments. Just dip a sponge or a soft cloth into the Dettol solution diluted in water and then, wipe the leather surface gently.
What happens if it accidentally contacts one's eyes?
First of all, be very cautious and avoid such contacts. If it happens by accident then quickly rinse your eyes with clean water thoroughly. Consult a doctor for advice, if the issue persists.