Washing Machines come in different sizes and with different capacities. They not only clean the clothes and delicate fabrics efficiently but also save lots of time.
While it's an extremely convenient device, placing them can be tricky at times, especially when you have decided to dedicate a space in the bathroom.
In today's post, I'm going to show you exactly how you can keep a washing machine in a small bathroom.
In fact:
These are the same strategies that we use and recommend.
Strategies and tips covered in this post will not only help to make your bathroom look organized but also won't affect the efficiency of your washer.
Here's what we will be covering in this post:
How to Keep Washing Machine in Small Bathroom?
How to protect your washing machine in the bathroom?
How to hide a washer and dryer in the bathroom?
Helpful tips and many more…
Let's get started.
How to Keep Washing Machine in Small Bathroom?
For your washer, the ideal space in a small bathroom will be under the sink.
Here's why?
It provides easy access to a water connection (as shown in the image below).
Looks neat and tidy.
Does not require long pipes.
With such a placement technique, you can save other spaces in your small bathroom.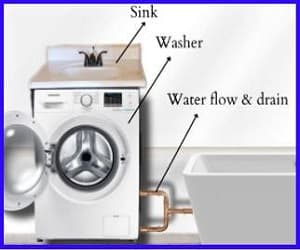 The only caveat with this placement technique is that selection of a washer may depend on the dimensions below the sink (especially if you are dedicating a space). You may have to compromise on the size and the capacity of the washer OR adjust the sink accordingly.
Also Read: How to Clean a Portable Washing Machine?
How to hide a washer and dryer in the bathroom?
Here hiding is referred to:
Keeping the washer and dryer safe and protected.
Make your bathroom look neat and tidy.
The simplest way to hide your washer and dryer is to place them behind curtains in the bathroom. Of course, a waterproof curtain is recommended considering the wet environment. Try placing a curtain made up of durable and thick plastic materials. This is the most cost-effective and convenient way of hiding your washer in the bathroom.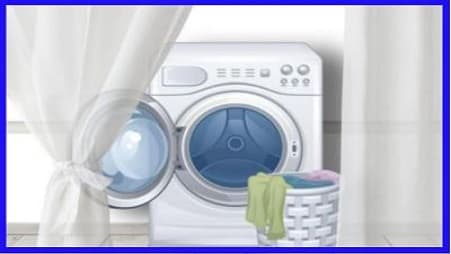 The other way of making your bathroom look organized is to place the washer and dryers stacked in a cabinet both vertical and horizontal as shown below. 
Shutting off the door or shelves will keep them secretly hidden and protected. Placing the washer and dryers in a cabinet will not only help you save space but also make your bathroom look organized.
Also Read: How to Clean Mold from Washing Machine?
Is it OK to put a washer and dryer in a bathroom?
Yes, a washer/dryer can be placed in your bathroom. However, some important things should be kept in mind:
Usually, bathrooms tend to be steamy and potentially damp for electronic appliances. Make sure to have proper ventilation conditions.
Exercising caution is recommended when choosing a spot in a bathroom, as water and electricity are a dangerous combination. The connecting sockets or the electrical supplies need special attention.
In such places, it's recommended to have a suitable washing machine stand to prevent the surface of the washer from rusting.
Covering the washer with a waterproof cover is highly recommended in bathrooms. As there is a higher possibility of excessive water spilling on the outer body of the washer and dryer.
Discourage children from playing with the equipment, especially with wet hands. In this case, you may use the child safety features available in most washers.
Also Read: Front Load VS Top Load Detergents
Will the warranty be voided?
Not all manufacturers have the same policies, therefore the best place to find out about warranty-related policies would be an instruction manual.
Some brands explicitly mention, that keeping the washer in high moisture area will void the warranty. On the other hand, some do not mention this at all. It's best to speak to the sales representative first before making a buying decision, especially if your goal is to place the washer in a bathroom.
If you are unsure about the warranty and fear that your warranty may be voided, call technical support for guidance. In the worst case, you may have to keep the washer in a dry area until the warranty period is over.
How to protect the washing machine from water in the bathroom?
Try following the below best practices to protect the washing machine from water in the bathroom:
Keep the washer away from the possible water spillers like the shower and regular running taps.
Always choose a corner of the bathroom where there is easy access to the drain area.
Keep the washer protected using a suitable waterproof cover.
It is highly recommended to fix a preferred washing machine stand, in order to protect the base surface.
It's always a good idea to have a concealed electrical connection with waterproofing capabilities in the bathroom. Talk to an expert for more advice and better instructions.
Also Read: How to troubleshoot a Portable Washing Machine?
Can you shower with the washer running?
Yes, technically you can. However, there are a couple of things to be considered.
If you are using 2 or more water supplies simultaneously e.g. one for a shower and the other one for your washer, then the water pressure may decrease due to dual supplies.
The low or average pressure for a washer impacts the performance by increasing the washing cycle duration.
But if you have a suitable water pressure motor installed in your house, then you do not have to worry much about the water pressure.
Note: The sufficient water pressure in a washing machine is anywhere between 20 to 116 psi. Furthermore, valve failure may occur if the pressure drops below 20 psi.
Can you use the bathroom faucet as a water supply?
Yes, you can use the bathroom faucet as a water supply. Having said that you may have to check if the inlet hose fits the sink. In most cases, it won't fit into the sink, therefore it's advisable to use the appropriate connector.
Also Read: What is Soil Level in Washing Machine?
Final thoughts
If your washing machine is placed in the bathroom area, you can follow these best practices:
Consider the placement of the washer and dryer in a bathroom or outside the house as one of the last options (in case you are left without any other alternative spaces).
Use a suitable washing machine stand if your washer is placed in the bathroom permanently.
Waterproof covers are a must to avoid external damages (outer body damages).
Don't be shy to take advice from experts.
Also Read: Can Vinegar Damage Washing Machine?