Bed nets and mosquito nets are like shields made to keep mosquitoes and other flies away from us.
Not only do they protect us from tiny creatures such as mosquitoes and other flying bugs, but also the dust and sand particles.
Over time, this fine mesh can catch dirt and dust, so they need to be cleaned regularly to make sure that air can flow around and inside the mesh.
The best way to wash bed nets is to hand wash them in cold water with a mild detergent. With that said, bed nets are so sturdy that they can even be washed in washing machines using cold water and delicate wash settings.
| Mosquito Net Material | Washing Method | Water Temperature | Detergent | Drying Method |
| --- | --- | --- | --- | --- |
| Polyester | Washing Machine Friendly | 30°C Maximum | Regular detergent | Air dry, avoid using dryer |
| Cotton | Hand Wash Only | Cold Water | Regular detergent | Air dry, avoid using dryer |
| Other | Check Manufacturer's Instructions | Varies | According to Instructions | Follow Manufacturer's Instructions |
In this article, you will learn how to safely wash a bed net using a washing machine or by hand.
What are bed nets?
A bed net is a piece of netting or a mesh that is threaded using cotton or synthetic fibers. They are popularly known as mosquito nets and are made using finely threaded nylon in most cases.
Bed nets are typically designed to cover the bedding surface to protect people from mosquitoes in tropical and subtropical areas.
They not only save you from mosquitoes and flies, but also from various diseases caused by their bites.
They come in a variety of sizes and shapes to fit different kinds of beds.
These bed nets can easily be positioned over the bed with ties or corner stands.
The use of bed nets extends beyond beds and bedrooms, and can also be done over cots, on terraces, and in gardens.
Some use them for camping, especially tent-like bed nets that pop up when unfolded.
Hanging bed nets
Using ropes tied around the top four corners, these bed nets can be erected anywhere.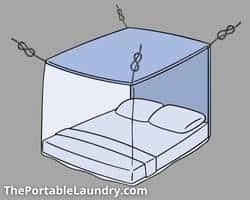 In most cases, these types of nets include four anchors as well as hanging hooks. You also get assembly instructions that make it easy for you to assemble.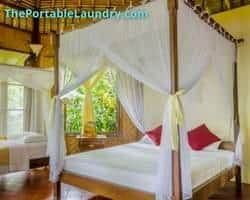 Centered Ring Bed Nets
This is another type of hanging bed net that only needs one bar to hang over your bed.
Simply pull the ring overhead to hang them to the ceiling, and they can be spread around your bed in any shape.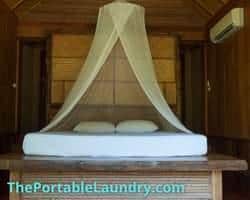 You can easily hang these bed nets over circular, square, or rectangular-shaped beds or surfaces.
These types of bed nets are a great choice to boost the appearance of your bedding.
The overhead ring that supports the net is usually corrosion-resistant, so it is easy to wash.
Tent-like bed nets
Bed nets are also found in the form of tents.
You can easily unfold them over your bed. Once you unfold them, the flexible strings pop up, and it stands like a tent over your bed.
To hold the surface, its base is fixed by pressing it under the bed.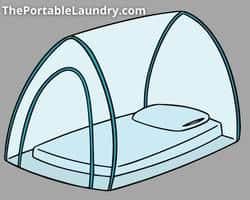 It has a lot of space above, so you can sit comfortably without having to bend over.
Can mosquito nets be washed in washing machines?
Cotton mosquito nets made of cotton should not be washed in the washer. Instead, always hand wash them. However, if your mosquito net or bed net is made of synthetic durable material, you can always wash them in a washer with cold water and delicate or gentle wash cycle settings.
Regardless of the material type, the bed nets should be washed in cold water as hot water may damage the material.
How to wash a bed net in the washing machine?
When you wash a bed net in a washing machine, even the tiniest mistake can damage your washer as well as the bed net.
For this reason, you must be very cautious when washing bed nets in a washer.
It is recommended to remove overhead rings from bed nets before washing them and do not use a washer with a spindle-like agitator, especially the top loaders.
To carefully complete the cleaning task, front-loading and HE washers are the recommended options.
Lastly, make sure you refer to the wash instructions on the package for the type of bed net you own.
Note: Tent-like bed nets are not recommended for machine washing.
Instructions to Machine Wash Bed Nets Safely
Step 1: Soak in warm water first
Soak them in a bucket or sink filled with water to remove excess dirt and dust before washing.
Next, fold them evenly as you normally do to store them and place them in the bucket or sink.
Step 2: Use a laundry mesh bag.
Always make use of a laundry mesh bag that can easily accommodate your bed net.
So, simply fold your bed net and gently place it into the laundry bag.
In some cases, the manufacturers send the bed nets in a mesh bag as packaging. Simply put your bed net in those mesh bags and wash it in the washing machine.
Step 3: Use a Gentle and Appropriate Detergent
No matter what kind of bednet or mosquito net you have, use a mild detergent and avoid using any other solution such as bleach or fabric softeners.
If you would like to use any additive, then use distilled white vinegar as it is considered to be safe.
Step 4: Set the right water temperature to wash the bed net
The preferred water temperature is always cold or warm. Using hot water can cause damage to the fine pores of the netting and its stitches on the edges.
Step 5: Select the appropriate wash program for your bed net
Always select a delicate wash program or as per available settings.
If your washer allows you to set a wash program manually, then simply select the below settings.
Duration: Select a short wash duration.
Spin speed: Set the low spin speed.
Rinse: You can select the extra rinse option to rinse out any residues from the netting.
Prewash: Optional
Detergent: mild
Soil Level: Normal or Low
Now, run the cycle and wait until it completes.
Step 6: Discharge the excess water
Once you remove the bed net from the washer, simply hang it to a pole or the mounting shower taps to discharge excess water.
Do not wring the nets to remove excess water or else it may stretch the netting and lose its shape. Instead, use a dry towel and wrap them to soak excess water out of the mesh.
Make sure you do it carefully to prevent tangling the net.
Step 7: Drying methods
Bed nets dry in a quick time if you evenly spread them over a clothesline to air dry.
Use clips to secure it to the clothesline from the wind and use clips that are safe for the netting surface.
You can buy some clips suitable for the netting items with a padded grip to hold them. 
You can unfold and tie them on your terrace to air dry using their pre-fixed ropes on the corners.
Another way to dry them is by laying them flat on the surface in a well-ventilated area.
How to wash a bed net by hand?
Bed nets can be cleaned quickly using the hand washing method.
Instructions to Hand Wash Bed Net
Step 1: Fill a container such as a basin, sink, or bucket with cold or warm water.
Step 2: Add a mild detergent and let it completely mix with water. Now stir the solution to generate foam.
Step 3: Place the net in the container and let it submerge completely. Stir the net gently in a circular motion for a couple of minutes and let it settle in the solution for around 10 minutes.
Step 4: Start swirling the net in forward and reverse motions for another couple of minutes and drain the used water.
Step 5: Fill the container with clean water and thoroughly rinse the bed net.
Step 6: Shake it evenly to discharge excess water and wrap it with a towel. Give a gentle press from all sides to soak up the excess water.
Step 7: Hang them to air dry or lay them flat on a clean and dry surface in a good ventilated area. You may also place a bed sheet below when you lay them flat. This will absorb water released from the netting.
Final Thoughts
To keep the air flowing through the fine nettings, bed nets must be cleaned regularly or as and when needed.
Avoid wringing the bed nets during the cleaning process, as this may stretch the net and lose its shape.
Do not machine wash a bed net that includes flexible strips for mounting them like a tent.
For optimum results, always refer to the wash instructions included with your bed nets.