Renting away your own washer can ultimately add an extra source of income.
And it is quite common to rent a washer in many places.
So, if you have a washing machine sitting idle for longer, then you can refer to this article for renting ideas.
Here is the list of sub-topics covered in this article.
Let's dive right into it.
Why would someone want to rent their washer?
Renting a washer is common among people who are looking to make some extra money.
With that said, here are some common reasons why someone would want to rent their washer.
Washer is Idle
It can be a situation where you have purchased a new machine or have been gifted one by your close ones.
In such a situation, it is always a good idea to let the old washer generate some income for you. 
It may also happen that possibly you have won a new washer in some lucky draw.
Whatever the situation is, the bottom line is that if you have a washer that is sitting idle you can make some extra money out of it by simply renting it out.
Renting away your existing washer will also free up some space in your laundry room.
So, it's a win-win situation.
Traveling abroad
If you are traveling abroad or away from your home for a longer period of time, then you may think of renting away your washer.
This will keep your washer active and generate some income while you are away.
Added income
Usually, we think of some or other way to boost our income. You may consider this as a business and start by renting your existing washer. This will also add to your monthly income in the long run.
Low selling cost
If you are on the verge of selling your used washer that does not pay back its worth. Then you may consider renting them off to get the most out of your old washer. You never know this can turn into a great deal.
How to put your washer to rent?
The first approach could be from your own personal contacts.
You can do your own publicity by offering the service to your close contacts on a personal note.
You can use various social media platforms where you are active.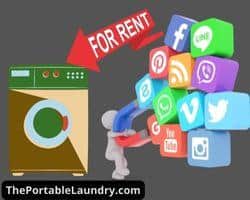 You can approach your neighbors or the neighboring apartments as most rental apartments do not offer a washing machine.
There are chances that someone who is using laundromat service regularly may notice your offer.
They may grab the deal offered by you in order to get rid of the daily expenses.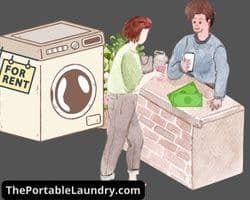 Alternatively, You may pick up your phone and contact a renting vendor to discuss rental options.
It can be a third party or a mediator who can pick up your washer and put it for rental on your behalf.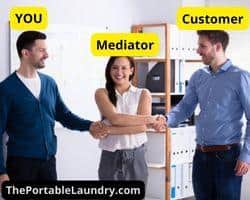 Another option is to approach a laundromat who may accept your offer if they need one.
What are the things to consider in the deal?
If you have a source willing to accept your renting offer, then you can have a mutual agreement as per your terms.
For sources such as your personal contacts, colleagues, relatives, friend or neighbors, etc. here you may not need to sign any agreements. You can simply set your expectations.
If you rent your washer to a professional rental service provider, they may look for a few things.
Inspection of our washer
They will have your washer inspected to check its health status. If your washer is too old to be rented then it may get rejected right away.
Agreement with T&C's
You might have to agree to the vendors' terms and conditions such as the set duration and additional expenses involved if any.
Make sure to go through each and every term set by the other party.
Payout
Here comes the core discussion about the deal.
According to the market rates and the available features of your washer the vendor may offer you a weekly or a monthly payout.
You can negotiate with the vendor and try your luck by bargaining to get the best payout.
In most cases, the rental strategy can help you earn more in the long run than the resale value.
Warranty
If you have cracked your deal with a professional vendor then they will explain everything about the warranty.
You have to be least bothered about the warranties and servicing.
For instance, if you have offered your washer to a colleague or to someone with a mutual understanding then you can ask them to look after the service or repairs under their possession.
For the warranty of your washer, you may need to call the manufacturer's helpline.
Some manufacturers may require you to update the address as per their set terms.
For example, if the washer is being used at a different address then you may need to update your manufacturer about the same.
Final Thoughts
Renting away your idle washer is a great way to keep them active and make something out of them.
You need to take the right approach by keeping the competitive rental rates in mind. Never rush towards pleasing deals as there may be hidden terms and conditions.
Lastly, keep your manufacturer in the loop and consult with them on the warranty terms.
Frequently Asked Question
How much can I earn if I rent my washer?
The earning potential depends on your washing machine's features, capacity, performance, and age. If it is good enough, you can easily make anywhere around $25 to $30 a month and it totals around $300 a year. Having said that, you may earn a lot more or less as the rental income is directly correlated to the present condition and the model of your washer.
Is selling or renting a used washer better?
Selling a used washer will pay you at once and rental income will provide weekly OR monthly cash flow. You may simply get the quote for both and decide what option suits you the best.