It requires some skills to move electronic appliances while keeping safety instructions in mind. 
Moving washer OR dryer OR both are common especially when you plan to renovate or build a new home, or even when relocating.
In this post, you will learn how to transport a washing machine or a dryer safely.
Here are some important points covered in this post.
Why do you need to move a washer?
Moving a washing machine can be considered in various scenarios, let us look into some of them below:
Origin: Washing machines are first moved from the factories after they are manufactured. They are sent for various functional tests.
The washers are safely moved with large cranes and machinery and are sent for packaging.
Point of sale: It is then moved either to the dealer's outlet or the factory outlet. At times washers are directly shipped to electronics retail outlets.
Consumers: Whether you buy a washer online or through stores, they have to be transported and placed in your laundry rooms.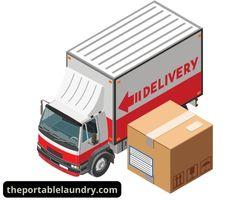 You can imagine the number of movements a washer goes through before they reach your laundry room.
This was all about the transport journey of a washing machine to have them reach your doorstep.
Let us discuss the common scenarios on why you need to move your washer at home.
You need to move the washing machine while cleaning or servicing and it is one of the most common reasons.
When you change the installation area within the household. For example, if you decided to place your washing machine from the kitchen to the balcony area.
On the occasion of renovating your home, you may need to move a washer a couple of times.
When you sell your washer or scrap an old washing machine.
Another reason is when you need to troubleshoot or replace one or two components.
Finally, when you relocate or if you entirely move your house.
How to transport a washing machine?
Transporting a washing machine may become a difficult task, but with the right tools and preparations, it can be done easily.
Let us dive into the process of safely moving your washer.
First, Let us start by looking into the washing machine types that are commonly used in households and what should be done before moving them.
Common types of Washers in households
The two main types of washing machines include front-loaders and top-loaders.
Front-loaders
These machines are the most common type and require slightly more floor space than top loaders. 
Front-loaders can be large and heavy, so it is important to choose the right one for your laundry room.
Top loaders
These types of machines are tall and require less floor space than front loaders.
They also have a smaller loading door at the top, which makes them easier to move around.
Steps to follow before moving your washer and or dryer within your household or to a different location
Remove any objects or clothes from the washtub.
And, disconnect the power cords from the washing machine and the wall outlet followed by turning off the water supplies.
Next, Safely detach the drain hose.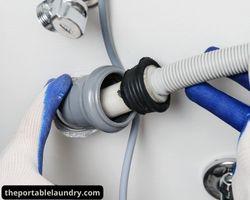 Then, Remove any objects that may be in the way, such as boxes or furniture. Move the washer from its location and place the machine on a sturdy, flat surface.
Now, if you want to move your washer within the household or to a different location altogether simply follow the below instruction.
Moving within the house
To move a washer within the household does not require packing or tying.
It can be easily done with the help of two-person.
Never try to lift the washer yourself as you may end up damaging the machine.
Always approach someone to assist you with the task.
Using a dolly makes it easy to move around your house.
You can use a luggage trolley.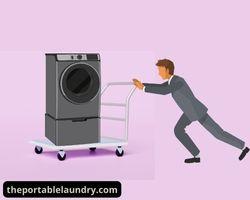 Place the washer in the desired location and proceed with your installations.
Transporting the washer to a different location
The best way to move a washing machine to a different location is by using a truck or a trailer.
In such a situation you may need to pack the washer with suitable packing materials.
Before you start with the packaging part, ensure the transit bolts are in place.
These transit bolts are usually fixed at the back of the washer.
They secure the drum with the outer body during transport so that they don't move. They are also known as shipping bolts. 
After securing the transit bolts, you may need a cardboard box and for more safety wrap your washer with bubble wrapping sheets.
Simply, pack the washer and secure it with strong sticker strips.
You can also make use of a blanket to wrap the washer and tie them over for safety.
Next, lift the washer and place it in the truck.
Once you have managed to lift the washer and place it in the vehicle, move it to a corner.
Ensure the machine is properly anchored to the floor and wall so it does not move during transport.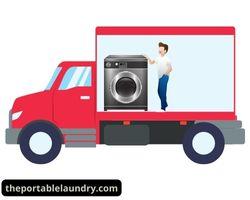 Secure the machine with chains, rope, or bungees if needed to prevent it from moving during transport.
Quick Tips to follow while transporting your washing machine
To pack a washing machine
Pad the bottom and sides of the machine with newspapers or other lightweight materials.
Place a layer of padding on top of the newspapers.
Wrap the machine in several layers of blankets.
Attach straps to the blankets and pad, and tie them off at both ends.
To transport a washing machine
Load the machine onto a sturdy, flat object that can be moved easily
Use straps to secure the machine in place
Be careful not to scratch or damage the machine
Different ways to lift a washing machine
If you are not planning to move the washing machine yourself, then you will need to contact a professional to have it moved.
Use a jack: Place a jack under the washing machine for lifting. Make sure you have enough space underneath the washing machine to fit the jack.
Use a hoist: Place the hoist under the washing machine and pull it up using a chain.
Use a crane: Contact a professional to have the washing machine lifted using a crane (You may need this if you have a large commercial washer).
Whichever method you choose, be sure to safety check the washing machine before moving it and wear the appropriate safety gear.
Final Thoughts
When transporting a washing machine, it is important to keep its weight and size in mind. 
Make sure to get a sturdy and protective container that will be able to hold the machine and all of its internal components.
Many manufacturers provide a shipping box or crate that is specifically designed for this purpose.
If you are unable to do it yourself, it's best to consult a professional packer and mover to get the job done.
Lastly, whenever moving your washer from one geographical location to another, do not forget to attach the transit bolts.
Frequently Asked Questions
Here are some common questions related to transporting the washer that may be helpful.
Is a truck a better option to transport the washer?
Transporting your washer by Truck is not a bad option. It can handle a large load and the cost is usually cheaper than other methods of transport. Trucks come in different sizes, therefore you can choose the one that suits the size of your washer.
What can I use to pack my machine?
When packing or transporting a washing machine, it is important to take into account the weight and size of the machine. You can include padding, blankets, transit bolts, and straps to help protect the machine during transport.
What are the key points to consider before moving the washer?
It is very essential to follow safety instructions before moving the washer.
Below are some key points to consider:
Ensure that the power is off and the washer is disconnected from all the supplies.
Remove any objects in the way, including cords and wires.
Turn the machine by its handle to ensure it is level and stable before moving.
Raise the machine's drain board to avoid damaging it when lowering it onto a cart or truck.
Secure any straps that may be attached to the machine before moving.