A portable laundry hamper is a box OR a type of container used to store and move the dirty laundry anywhere.
They are versatile, convenient, and very useful to keep your dirty laundry organized.
Let's take a quick look at the different types of laundry hampers, their uses, and some tips on using them effectively.
Here is the list of topics covered in this article.
What is a Portable Laundry Hamper?
A portable laundry hamper is a small and sturdy basket OR a container specifically designed for handling and storing dirty laundry.
They are usually made of metal or plastic and have a hinged lid or a detachable lid.
In some cases, these laundry hampers come without a lid and can be available with a velcro strip opening. 
Some of these portable laundry baskets are usually made using metal frames and a fabric covering. 
They are also favored in rental property as they are easy to move.
Laundry hampers are typically placed in a dry area of the house, such as the basement or laundry room.
Different Terms
Laundry hampers are also known as laundry baskets, laundry boxes, clothes containers, voiders, laundry receptacles, etc.
What are the different types of laundry hampers?
In different places, laundry hampers are named differently. They are available in different sizes and created using various materials.
The Lid: Some laundry hampers or baskets come with a lid. The lid covers the laundry basket from the top and is attached using hinges or free-to-move (detachable) lids. 
Material Types: These laundry hampers are made up of plastic materials in most cases. You may also find them in the form of a woven material using nylon or polyester, cotton, natural jute, paddy stubble braided, breathable fabric, etc. 
From medium to large sizes they are also available in the form of Mesh bags with a zipper opening.
A Plastic hamper would look something like this.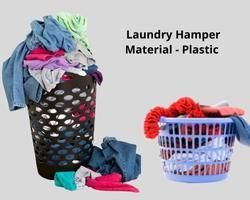 Whereas A Mesh hamper looks like this.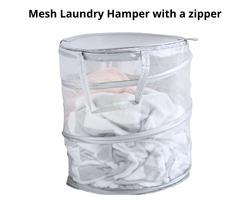 Ventilated holes: They contain holes or large nets so that the fabrics are well ventilated and do not release a foul smell. We usually tend to store mixed fabrics for washing or cleaning purposes.
There could be a smelly sock or a tracksuit with sweat and other fabrics with an accumulation of dirt, oil, grease, stains, etc.
In such situations, storing them in a packed basket or containers may lead to a foul smell released all around.
These baskets are not only used to collect dirty clothes for laundering but are also used to store clean fabrics after wash. The clean fabrics that we remove from the washing machine after the wash cycle or the hand-washed clothes.
There are other varieties of laundry hampers or baskets that we will discuss below.
Wall-mounted laundry hampers: These laundry baskets can be easily mounted to the walls, especially in bathrooms. 
When you take a shower it becomes convenient to collect washable garments into the wall-mounted laundry receptacles.
Simply throw away your washable garments to hold them together for laundering. These are typically made of stainless metals or plastic materials.
Laundry basket with wheels: This is one of the types of laundry hampers or baskets that contain wheels at the base surface.
These baskets can be easily dragged without lifting them over to your shoulders.
Simply move them from one room to another and gather your laundry stuff. These are also known as rolling laundry baskets.
These types of baskets or bags are usually framed with plastic rods and are mounted with moisture-resistant fabrics.
With that said they are not only perfect for dry fabrics but also for wet clothes.
Paddy Stubble braided Bags: Paddy stubble bags are made using agricultural crop straws. It contains an inner lining of cotton fabric and is usually removable for washing purposes. These types of bags come with handles and a detachable lid.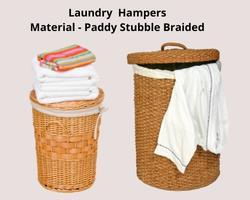 Jute Laundry bags: These bags are woven using jute threads and come in round or square-shaped bags.
Just like the paddy stubble bags, these contain an inner lining detachable cloth.
These laundry baskets are environmentally friendly due to their natural jute material. These contain handles and a detachable lid.
Heavy Duty Laundry Cart Baskets with Wheels: These baskets are made with iron frames covered with water-resisting fabric.
With this laundry basket, you can place dirty clothes, blankets, and so on in it without worry.
These baskets can hold large items weighing up to 50 kilograms of weight. These laundry bags are said to be stable and easy to carry, with 6 straps at the top of the hamper for stability.
The velcro straps are easy to put on and take off, making them convenient to use.
Why do you store washed clothes in the laundry hampers?
These bags are designed to store fabrics for a cause and that can be many. Let us look into some of the important points below.
For washing machines
The fabrics come out damp and dry from the washing machines. You may simply use the laundry hampers to collect the washed clothes from your washer and carry them easily to the clothes dryer.
For washer and dryer combo
If you have a washer-dryer combo that has completed the wash cycle with a mixed load of fabrics may need further treatment.
There are chances that a few fabrics may not be suitable for machine drying.
Here you may simply pull out the unsuitable fabrics that do not qualify for machine drying and load them into the laundry hampers.
Now you can allow your machine to dry the remaining suitable fabrics in the clothes dryer.
This also helps in the separation of loads that can be machine dried and the fabrics suitable for air drying.
Hand-Washed Fabrics
For hand-washed fabrics, it makes it easier to gather and store hand-washable garments.
Further, you can collect the washed clothes in the basket and carry them easily to the dry room or dry area.
Note – Make sure not to store the washed fabrics in these baskets for too long. This may cause wrinkles and a foul smell from damp fabrics.
What are the benefits of a laundry hamper?
There are many advantages of a laundry hamper in your home.
It can help you save space in your closet, and can also help you keep your clothes clean and organized.
Here are some of the benefits of having a laundry hamper in your home:
A laundry hamper can help you save space in your closet.
It can prevent your filthy laundry from being overlooked and left on the floor.
A laundry hamper helps to avoid dirty clothes piling around your rooms.
It helps to keep your laundry room clean and organized.
Makes it easy to transport laundry to the washing machine and the dry area.
It allows you to sort your laundry before washing.
Apart from the above benefits a laundry hamper or basket helps keep odors out of the dirty clothes.
Because these laundry baskets are usually designed like mesh fencing to a frame, it allows the air to circulate, thereby preventing the build-up of odors
With that said, If we store many types of dirty clothes together in it, then there is a chance that they start producing a foul smell.
How to choose the right laundry hamper?
When you are shopping for a laundry hamper, there are several things to consider.
The size and the type of hamper, and the features that the hamper offers are all important factors.
Here are some tips on how to choose the right laundry hamper for your needs:
Determine what size you need 
Most people need a small or medium-sized hamper.
Consider what type of laundry hamper you want
There are two main types of laundry hampers such as stacking and non-stacking. 
Stacking: A stacking laundry hamper is like a high-end closet organizer and holds multiple items in its compartments, such as sheets, towels, and clothes. 
Non-Stacking: A non-stacking laundry hamper is just like a regular closet and can only hold one item at a time, such as a shirt and pair of pants.
Consider the features that you want in your laundry hamper.
Some features that you might want include a lid, a handle, and compartments for different types of clothes (such as whites and colors).
If you are looking for a laundry hamper that can hold a good amount of weight then you may simply go for a metal-made hamper.
It's advisable to consider a hamper with wheels i.e. a trolley hamper for laundry as it is easy to move around.
How to make a homemade laundry hamper?
You can easily create your own laundry hamper at home. It is a simple task and simply requires basic sewing tools and a piece of breathable fabric. 
Cut two pieces of fabric to the desired size for your laundry hamper. You may use fabric made with cotton or breathable fabric material.
Sew the two pieces of fabric together along the sides and bottom, leaving the top open. 
You may insert a liner using a soft and fine fabric material if desired.
Turn the fabric inside out.
Fold down the top of the laundry hamper to create a rim. 
Sew along the top of the laundry hamper to secure the rim.
You may also stitch a handle to rest them on your shoulders in the course of mobility.
Note – You may fix a zipper or a velcro strap on the opening end of the laundry hamper.
Final Thoughts
A laundry hamper is a great way to organize and store your dirty clothes. 
Not only can it be a space-saver, but it can also help you avoid the hassle of sorting through piles of dirty clothes every time you need to get dressed. 
If you're looking for a way to declutter your home and increase your efficiency in the laundry room, a laundry hamper could be the answer for you.
Always choose the right laundry hamper according to your needs.
There are a variety of material choices such as hampers made of plastic, metal, straws, etc. Nevertheless, you can also choose from a laundry hamper with a lid or a trolley.
If you are a DIY person then simply make a homemade laundry hamper with basic sewing skills.
Frequently Asked Questions
Here are some helpful questions related to Laundry Hampers that may be helpful.
Why are there holes in a laundry hamper?
Most plastic laundry hampers have a simple design. They typically have a handle on the top and two holes on the sides. The holes around its body are usually available for ventilation, which allows air to circulate inside.
Can I use a pillow cover as a laundry basket?
Pillowcases are usually used as laundry bags to wash delicates in a washing machine. It may not be a bad idea to use them as laundry hampers.
How long can I store washed fabrics in a laundry hamper?
It is not recommended to store washed and damp fabrics for too long. Simply load the washed fabrics and put them for drying options as per the fabric types.
Do I need to clean my laundry hamper?
Yes, it is essential to keep the laundry hampers clean as they carry dirty clothes. If you don't clean the laundry hampers then there are chances of dirt and residual buildups inside the laundry hampers. 
How often do I clean the laundry hampers?
If your laundry hamper is made up of plastic or water-resisting material then you may clean them at least once after a couple of uses. Most laundry hampers have detachable liners inside. In this case, you can clean the liners regularly or as soon as you notice filth on the inside surface. Simply clean the liners once after a couple of uses and wash the entire laundry hamper once per week.