Laundromats are an essential service that fulfills your laundry chores.
These services can be of huge relief if you are too busy with your schedule OR if you have limited or no access to a washing machine.
In this article, you will have a better understanding of laundromats, their importance, and their responsibilities.
Early Day Laundry
In the early days of laundry when washing machines weren't that popular, there were different ways of laundering.
There were these guys known as Washerman or Launderer who are also known as 'Dhobi' in India.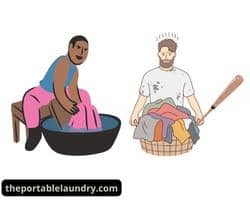 They offered door-to-door services, from collecting a bunch of garments and delivering them after cleaning.
It was and still is a good source of income for a few.
The process of cleaning clothes required a lot of physical effort back in those days.
The laundry services offered by them helped to overcome their necessities and earn sufficient income for basic livelihood.
What was the Washing Technique?
Strong and heavily soiled fabrics were placed over wooden logs or flat surfaces such as a piece of rock and were struck using a wooden bat-like object.
Delicate items were hand washed in large tubs near the riverside or a large well.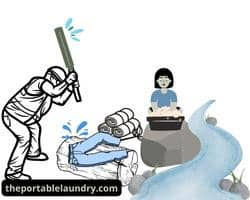 After washing the clothes it was then carried over to the drying area.
Typically an area of land was dedicated as the drying area where bamboos were tied with ropes to make a clothesline.
The clothes were hanged over to the ropes for air-drying or sun-drying.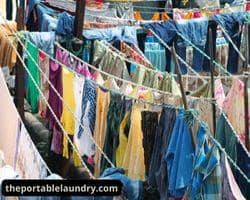 Modern-day laundry
In the early days, laundromats were just for washing clothes and other laundry items.
But over time they have evolved and now also offer machines that do dry-cleaning and ironing.
Laundromats have also evolved into more social spaces where people can relax and chat while their clothes are being cleaned.
Technology has changed and so did the entire method of washing and drying garments.
Now you can simply walk into a laundromat and complete the laundry task using various available options.
The clothes will come out clean and dry before you complete reading a story.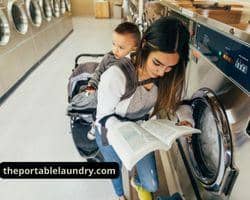 Why do you need a laundromat?
You may need to have access to laundromats in several situations, let us look into them.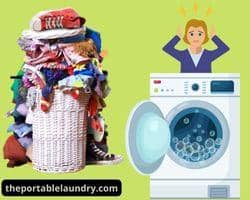 If you are too busy with your schedule to handle your daily laundry.
Situations where you have too much laundry to handle all of a sudden. For example, you have a surprise family visit or a gathering for a week or so. This may add more burden to your daily laundry.
You must be traveling to a different location for a limited period of time and have rented an apartment that does not offer a washing machine. In this situation, to fulfill your laundry needs, you may have to hunt for a laundromat.
Students away from home, usually prefer laundromats for keeping their laundry clean.
In situations where your washer is sent for servicing or repairs, you may prefer a laundromat for the time being.
What do you mean by a Laundromat?
They are laundry servicing facilities, equipped with all sorts of machinery and other requirements to fulfill laundry-related tasks.
It is a place where you will find different types of washers, dryers, and dry cleaning options.
Not only the machines, but they also offer cleaning solutions such as detergents and fabric softeners.
All you have to do is pay them for all the services that you use for your laundry.
You can also refer to them as a place where people can go to wash their clothes.
Laundromats are usually found in larger cities, and they often have machines that people can use to wash their clothes.
What are the different types of laundromats?
There are different types of laundromats, each with its own unique features and benefits.
Self-service laundromat
Here the units are typically smaller in size and offer fewer amenities than the full-service laundromats.
Nevertheless, they are popular among budget-conscious consumers because they don't require the use of a coin or card to operate.
Full-service laundromat
These units typically offer more amenities, such as water heaters and dryers, and are ideal for consumers who want to take advantage of all the features available at a laundry facility.
Combo washer/dryer unit
This type of machine offers both wash and dry functions in one machine, making it ideal for consumers who need to do their laundry quickly but don't want to spend extra time cleaning up after their clothes are done drying.
What are the benefits of using laundromat services?
Laundromats offer a number of benefits that can be helpful when it comes to laundry.
Let us go through some of the benefits below.
They are convenient as you can usually walk in and out quickly, which is especially helpful if you have a lot of laundry to do. 
Laundromats often have more than one machine, so you can choose the one that works best for your clothes. 
Most laundromats offer discounts on charges for large loads of laundry, so it's a good option if you need to do a lot of laundry at once.
Situations where you may avoid laundromats
A laundromat is a convenient place to fulfill your laundry when needed. But they may not always be an ideal solution in some cases.
Let's take a quick look into scenarios OR cases where you may want to avoid laundromats.
At times laundromats can be quite expensive, so if you do a lot of laundry regularly you may be better off buying a new washing machine Instead.
If you miss carrying your own detergent then it may be expensive to buy from the counter.
Laundromats are not always the most environment-friendly option. Most machines use excess water and detergent, which can waste a lot of resources.
If you are a traveler and have halted for a few months, then you can simply rent a washing machine. Check if there is a source available that offers washing machines for rental.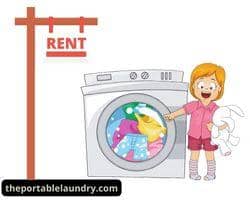 What are coin-operated Laundromats?
Coin-operated laundromats function by inserting coins in the available slot. It is designed to operate only when you insert a coin into them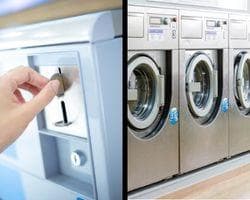 They are typically meant for small loads of laundry.
They are also known as washers and dryers, or simply, self-service Laundromats.
Unlike modern-day commercial facilities, coin-operated laundromats are smaller in size.
The coin-operated laundromats were usually meant for individuals to fulfill their laundry needs. 
In some cases, they may not be equipped with the latest technologies and use conventional machines.
Older machines may not have up-to-date features.
Final Thoughts
A laundromat is a great option for those who need to do their laundry but don't have the time or space to do it at home. 
Laundromats often have machines that can do everything from washing to drying clothes. So all you have to do is pop in your clothes and leave.
They're usually located near grocery stores or hardware stores, thereby making them convenient for busy people.
Frequently Asked Question
Some common helpful questions related to laundromats.
How do laundromats work?
Laundromats are typically used for washing clothes, but there are other uses as well such as drying clothes, dry-cleaning the fabrics, and even ironing.
How are the charges calculated?
The charges for using laundry services differ based on the task performed. The rates may vary for washing and drying depending on the quantity of your laundry load.
What is the cost of using a laundromat?
The prices may vary depending on the laundromat and the size of the load, but typically it costs anywhere around $2 to $3 per load. Some laundromats also offer discounts if you wash multiple loads at once.
What should I bring to the laundromat?
You will need to bring laundry detergent, fabric softener, and quarters (or a debit/credit card) to pay for the machines. Most laundromats also have vending machines where you can purchase laundry supplies if you forget to bring them.
How do I use a laundromat?
To use a laundromat you may simply follow the basic steps mentioned below.
Gather your laundry and any laundry supplies you need.
Head to the laundromat and choose the available machine.
Follow the on-screen prompts or posted instructions to start your cycle.
Finally, remove your clothes from the machine and fold them before heading home.
How long does it take for garments to be washed and dried at a laundromat?
Washing usually takes around 30 minutes, and drying can take about 45 minutes.
You May Also Like