Laundry these days is no longer a frightening process, thanks to the wide selection of washing machines available with modern features.
If you only need to wash a few items of clothing at a time, you can use a bucket washing machine instead of a heavy and bulky one.
In this article, we will be discussing the bucket washing tool for laundry, its uses, benefits, and disadvantages.
What is a portable bucket washing device?
A portable bucket washing device is a handy piece of equipment that is used to clean smaller loads of laundry.
It is similar to a disk-like impeller that is attached inside the inner tub of a washing machine and does all the agitation work.
In fact, they are so compact and portable that they can be carried around in a backpack.
You can easily wash up to six items of clothing at once, and it has a capacity of up to two kilograms or more in general, depending on the type and brand.
You simply need to place these disks inside a container such as a sink or a bucket filled with water, detergent, and a small load of garments.
Using a combination of gentle spinning and forward/backward agitation, this machine will quickly and effectively clean all of your laundry.
In other words, they resemble miniature portable washers and would be ideal for someone who does only a small amount of laundry or lives alone.
What are the types of bucket washing devices?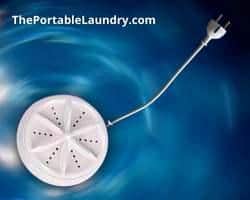 They come in different types and sizes, and the most common type is a standalone spinning disk similar to the impellers that are used in a container.
Bucket washing machines are often powered by electricity and have a power chord cable connected to them.
Moreover, you may also buy ones that are battery-powered and rechargeable.
When placed in a container, these impellers spin your clothes to help you save time and energy otherwise spent manually swishing, agitating, and rinsing.
Most bucket washing devices include a few washing modes suitable for different types of garments.
There is a tiny operating device attached to the power cable to control the washing modes.
Additionally, they are also available in the form of a mini portable washing machine.
They come in the form of a standard-sized bucket with pre-installed washing disks inside.
You don't have to use a bucket separately and can simply add water, detergent, and your garments.
So, there is one simple disc, affixed to the bottom of the bucket, that spins to agitate the laundry loads.
What are the benefits of using a bucket washing device?
This little appliance performs the laborious task of cleaning your laundry loads and offers numerous advantages.
Here are a few advantages of using a portable bucket washing device.
Easy to fit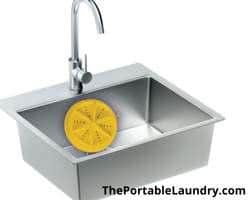 A bucket washing device is small in size and can fit most containers in your household (containers such as buckets, bowls, basins, and sinks).
You can simply place them inside these containers and follow the cleaning process.
It reduces physical effort
Using this device can reduce your physical effort of manually agitating, rubbing, and rinsing garments during the wash.
If you are frequently involved in the process of hand washing your items, this device can come in handy.
Easy Mobility
Bucket washing devices in the form of impellers can be easily carried during small trips or maybe business trips.
You can easily place them in your bags like any other small electronic item.
This device is perfect for someone who lives in a mobile home or who travels a lot for work as a truck driver.
Pocket Friendly
If you own this item, you can save money by not having to pay for a laundromat on your travels.
It is also most suitable for students who travel away from their hometown and rely on paid services for laundry or who depend on hand washing clothes to save on additional expenses.
Cost Effective
When it comes to purchasing costs, these devices are pretty reasonable.
It can be the best choice for someone who cannot afford the cost of a full-size washer.
A bucket washer might be a good alternative for completing your laundry tasks without breaking the bank.
Baby Fabrics
It's a great choice to wash baby fabrics quickly and with minimal hassle.
We all know that babies, especially newborns and toddlers, make a lot of laundries quickly.
The thing is, you have to do something every now and then to keep a clean environment around your toddler.
One can use this device and wash almost all their baby garments in the sink, including baby blankets and washable bedding.
Other Tiny Garments
Bucket washing devices are best suited for tiny garments such as socks, handkerchiefs or washable tissues, undergarments, hand towels, swimwear, gym wear, and more.
To wash these tiny garments, you can avoid using a full-size washer and get them done easily using a bucket washing device.
If you own this device along with a washing machine, then you can separate the tiny garments to clean them using the bucket washer in a basin or a sink.
Power Saving
These gadgets are the most effective in reducing monthly energy costs.
The motor that spins the impeller disk consumes a very small amount of power during operation.
You can simply use this device to wash excess loads in multiple cycles.
What are the disadvantages of a bucket washing device?
While the portability, ease of use, and cost-effectiveness are the advantages of a bucket washing machine, it does have some disadvantages.
The biggest drawback is that it cannot handle large loads or several loads of laundry because of its size.
It is not suitable for bulky items such as bedsheets, regular towels, blankets, and other large garments.
For excess loads, you will have to use them multiple times.
A bucket washer may not clean the fabrics as effectively as a regular washing machine, and hence you may have to provide the finishing touch manually.
It does not include a drying option, and the spin is used only to rotate clothes for cleaning and with water.
It doesn't have different washing programs like a regular washer does.
If you use your regular buckets, you will have to manually drain the water after each use.
Final thoughts
If you travel a lot, this device may be the best way to wash your clothes.
Always use them with the recommended amount of laundry load, and follow the instructions in the product manual when using them.
For any assistance, you can call the manufacturer's helpline number.
If you use these devices wisely, then they will last longer and continue to ease your daunting task of laundry.
If you are a new parent, you may easily and independently wash your baby's laundry load with this device.
Frequently Asked Questions
Where can I buy a bucket washing device?
These devices can be easily bought from stores that supply regular laundry tools. The other way is to buy them using online platforms such as Amazon.
Can I wash a blanket in a large bucket using this device?
No, because the pressure from this gadget won't be quite as intense as what you'd get from a regular washer. It can lead to an unclean blanket and also damage the device.